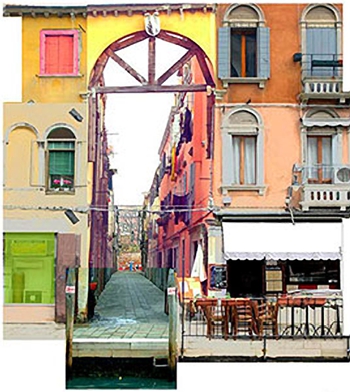 JoAnn Locktov, principal
Bella Figura Communications
JoAnn started her career in public relations after writing two books on contemporary mosaics. A UC Berkeley graduate in Economics, she worked as a movie producer, making an early Kevin Costner film, and as a development director, raising millions for PBS. JoAnn's passion for mosaics and Italy led to Orsoni Smalti Veneziani. Their new mosaic school needed students, and a career was born. JoAnn uses her experience as a writer and an imaginative strategist to effectively represent a variety of clients. Her fascination with art and design, and her innate understanding of public relations, has enabled Bella Figura Communications to assist creative individuals and businesses in the achievement of their dreams.
In 2014, JoAnn created Bella Figura Publications, a publishing imprint, to produce the Dream of Venice trilogy. The award-winning books have achieved commercial and critical success. Working with luminaries from literature, cinema, architecture, and photography, the books represent Venice as a living city. 
That Venetian mosaic school? Today, it's thriving with students in attendance from all over the globe.
Services
HAI FATTO BELLA FIGURA:
An Italian expression for making a positive impression, pleasing both to the eye and to the mind. The essence of our service.
Bella Figura Communications functions as a conduit from your enterprise to your targeted market. We explore the unique qualities of your product and develop the stories that render it irresistible. We deliver your message through digital, print, and electronic media. We also make effective use of social networks, events and sponsorships, as well as product libraries. We create and distribute all necessary communications and aggressively track their effectiveness.
Media Relations
The key to any successful campaign is exemplary media relations. Bella Figura Communications has established contacts and relationships with national and regional media outlets that get your story heard.
Social Media
We analyze and select by relevance the social media tools that will effectively build your community and deepen customer loyalty. We use social media to inspire conversation, to establish buzz, attract and retain admirers.
Writing & Editing
We create press kits, press releases, social media posts, color/trend reports, internal newsletters, articles, white papers, mission statements, and speeches using compelling language reflective of your individual style.
Events
We organize and support clients at conferences, designer events, trade shows, educational courses, launches and competitions, leveraging opportunities to maximize exposure and your investment.
Accolades
La sua precisione nel lavoro ha rivelato strategie esatte e ben calibrate, sia nei tempi che nei modi.

—Cleto Munari, Artist and Designer

JoAnn is an incredible PR talent, an indefatigable quarterback.

—Sara Baldwin Owner, CEO and Creative Director at New Ravenna Mosaics, Owner at Sara Baldwin Design

Gracious, poised and insightful, as a writer JoAnn is an editor's dream.

—Joanne Molina Editor at The Curated Object

JoAnn is an incredibly savvy design publicist that makes your life easier as an editor or blogger because she only works with top quality clients and knows how and where to pitch their work.

—Rita Catinella Orrell, LEED Green Associate Curator of Things, Designy Things Media LLC

JoAnn Locktov is an absolute joy to work with on every level. Her highly professional services combine an elegant style, creative flair, and savvy, customized approach to every aspect of the job.

—Susan Van Allen, Author and Traveler

You seem to have done what a lot of PR outfits promise but never quite manage to do!

—Sean O'Reilly, President and Founder, Auriga Distribution Group

JoAnn's work is far-reaching in terms of practical accomplishments, plum with a litany of stellar media networking and communications.

—Michael Kuch, uomo sales + marketing agency

I highly recommend her to artisans, manufacturers, and distributors to assist them in developing creative and effective marketing and public relations programs and strategies.

—Eric Engstrom, Eric Engstrom Fine Arts

Beyond her indisputable abilities, JoAnn has many humane qualities and it was easy to transform a work relationship into a solid friendship.

—Lucio Orsoni, Honorary President, Orsoni Smalti Veneziani

JoAnn is someone who gets it, who delivers, whose dedication and passion come through with each email and phone call. And that's a very rare thing.

—David Bailey, Senior Editor & Writer

JoAnn Locktov is a publicist who takes a fresh approach to gaining press for her clients. As a journalist, I am thrilled to work with her because she is organized, dependable and she goes the extra mile to put that creative spin on pitches that makes me want to find placement.

—Saxon Henry, Journalist & Author

She is the most amazing PR person I have ever worked with, able to communicate with punctuality, able to absorb what the message is supposed to be and re-styling it so it seems like a symphony orchestra is playing.

—Marcello Becchi, Director of Business Development, Trend USA

JoAnn is smart, a great communicator, produces huge value at reasonable cost, everything she does is on time, and her enthusiasm for people and her work is completely contagious.

—James O'Reilly, Co-founder, President and Publisher of Travelers' Tales/Solas House, Inc.

JoAnn is in a category all her own. In all my years working in design, JoAnn has consistently surprised me with ingenious products and innovative artists that push the boundaries of conventional design.

—Nicole Haddad, Design & Web Editor, New York Spaces Magazine