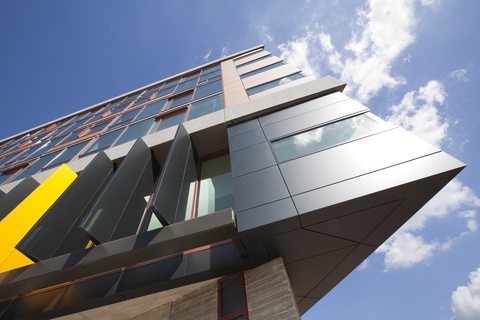 Alfonso Architects Design Streamsong Resort
(Tampa, FL)…..Alfonso Architects has designed the Streamsong Resort located in Polk County, Florida. Nestled in the Bone Valley, the 16,000 acre property includes a 316,000-square-foot lodge, 42,000-square-foot golf clubhouse, four restaurants, spa, and conference center. Along with the two buildings, lead architect Alberto Alfonso, AIA designed custom lighting, furnishings, spa products, staff uniforms, and signage. The resort, located between Tampa and Orlando is situated on formerly mined phosphate land owned and developed by The Mosaic Company, the world's leading producer of crop nutrients. Both the golf clubhouse and lodge have won 2014 Florida AIA Design Awards of Excellence.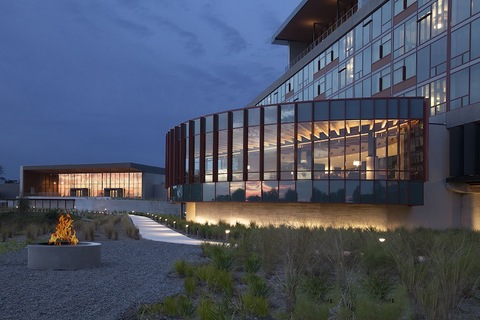 Alfonso designed a vertical building strategy for the lodge grounded in the pre-historic terrain. Four zones, submersion (AquaPietra spa, Breezeway, SottoTerra fine dining), Bank (public spaces and the Leaf lobby), Canopy (216 guest rooms with custom floor to ceiling wood louvers, furnishings, paintings, bookshelves), and Sky (Fragmentary Blue rooftop lounge inspired by the Robert Frost poem) represents a natural correlation to the unique characteristics of landscape and climate.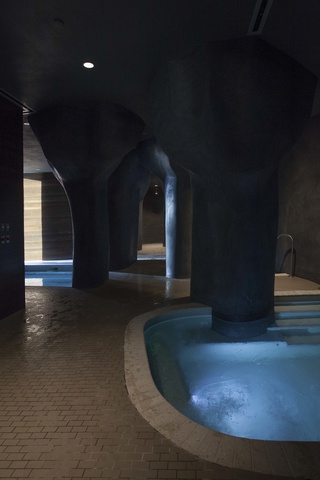 The Surroundings of Streamsong Resort Influence the Design
The history, geology, foliage and celestial sky influenced material palettes, textures, and colors. Limestone, cedar, cherry, teak, and walnut were used as warm natural extensions of the land. Hand crafted mosaics, Venetian plaster, and cast in place architectural concrete produce surface texture. Alfonso, an exhibiting artist, created a series of abstract paintings, murals, engravings, and sculpture that enliven Streamsong with fine art.
"Streamsong is a celebration of reclamation, of both land and spirit. Since the mining has stopped, nature has taken over and provided us with the perfect inspiration," says Alfonso. "Enormous grass dunes, our brilliant Florida light, water bodies stretching to the horizon teeming with fish and wildlife, a fertile and varied landscape, are all reflected in the design consciousness of Streamsong. The rooftop veranda offers a limitless view of our Florida sunsets and embraces the clear rural night sky."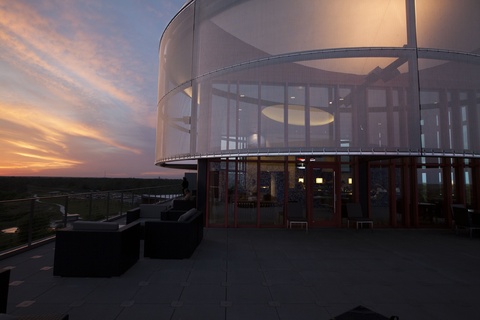 Alfonso Architects, Inc. is a 35 person architectural design firm with current office in Tampa Florida, Philadelphia, Pennsylvania and Milan, Italy. The firm was founded in 1988 by Cuban born brothers Carlos and Alberto Alfonso and Angel del Monte. Alfonso Architects has won over 40 project-specific AIA Design Awards. Representative design projects include the Nielsen Media Research Global Technology Center, a 650,000 square foot office and Airport Southwest Airlines Terminal, a 110,000 square foot airside. Both of these projects, received the AIA Award of Honor.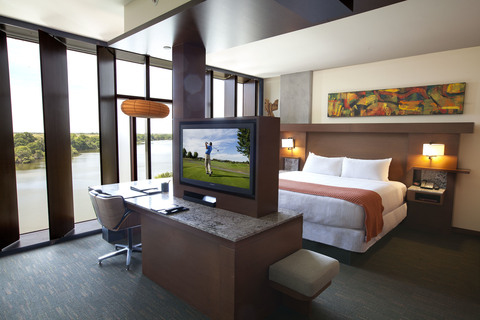 Philosophically, Alberto Alfonso's design process relies on the development of a project-specific architectural design idea that is grounded in site, program history and region. An accomplished painter, Alfonso's process also utilizes painting, sketching, wood and steel models, and 3D computer technology to investigate design solutions. His work is heavily influenced by climate and the celebration of light referencing his Cuban heritage. There is a strong emphasis on materiality investigation to achieve an architectural expression that is both timeless and vigorous in detail.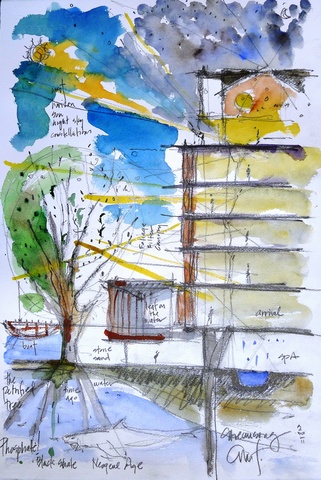 ###
About Streamsong Resort
Located between Tampa and Orlando, Streamsong® Resort has been developed by The Mosaic Company and is founded on a commitment to its surrounding resources. From awe-inspiring golf courses and enchanting nature trails to sumptuous dining and ethereal spa experiences, Streamsong will operate in concert with its environment. This appreciation for the land's inherent beauty creates an unparalleled luxury resort. For more information, visit www.streamsongresort.com.  Streamsong's resort facilities are operated by Interstate Hotels & Resorts and its golf operations are managed by KemperSports.
[Press Release]