The Spring 2017 issue of New York Spaces magazine has highlighted products by Bella Figura Communications clients in "The Black & White Fashion Forward Pairings."
View the Full PDF of the placements.
Erica Tanov's cement tile designed for clé, the Ay Illuminate Umut 2R pendant distributed in the United States and Canada by Global Lighting, and Paul Schatz's Augustine tile designed for New Ravenna.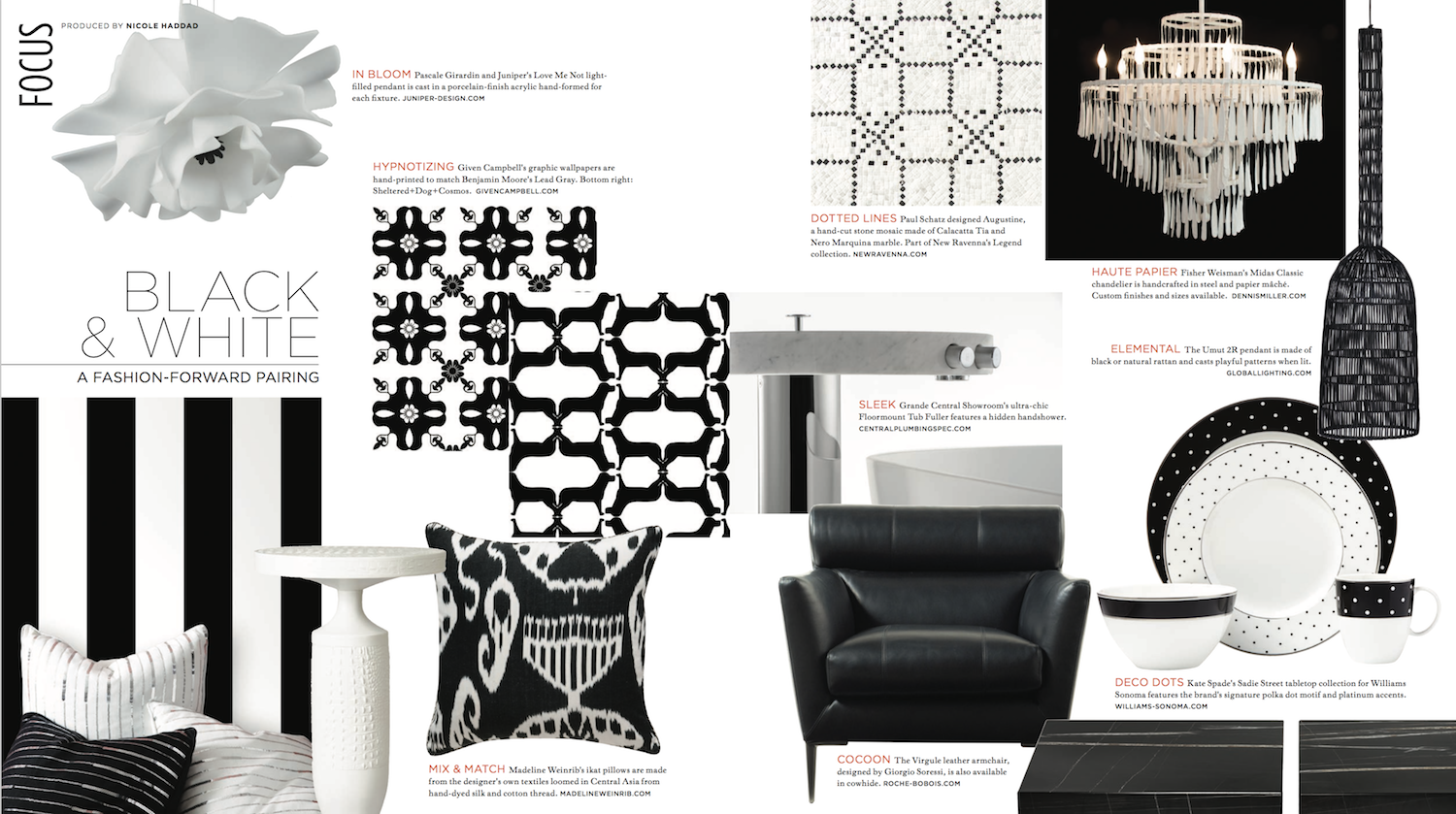 Profiles of Designers of Highlighted Products
A bit about Erica Tanov from the clé site:
"there is a thread that runs through all that san francisco artist erica tanov does, whether it's her women's wear collection, her home wear collection, or the serenity she creates in her stores. it has to do with a sense of well being. for erica, design is the process of discovering, or rediscovering, the essential nature of things. for her, quality is more a reflex than a decision. it's second nature, she explains: 'i've always been drawn to things that have an enduring beauty, that are well-designed and well-made'."
in erica's words her cement tile collection is:
"an avid collector of vintage textiles and books and constantly in awe of nature's offerings, this collection of tiles is inspired by the culmination of these loves. i've reworked original prints from my clothing and homeware collection archives, translating them into a group of tile designs."
A bit about Paul Schatz from the New Ravenna site:
New Ravenna Mosaics is proud to introduce the Miraflores Collection by Paul Schatz. The collection of nineteen mosaic designs was inspired by award winning interior designer Paul Schatz's travels throughout the Latin countries of Spain, Portugal and Mexico, combined with his passion for Morocco and studies of Islamic geometric art. The hand crafted mosaics are complex infinite patterns. Miraflores which means "to watch flowers" in Spanish has a storied legacy of palaces, monasteries and neighborhoods in Spain and South America. Each pattern is a contemporary abstraction of a classic motif that is designed to scale based on the specific installation. The mosaics made in natural stone can be installed as floors and walls, inside and out.
Sara Baldwin, founder and creative director of New Ravenna Mosaics is delighted with her company's most recent collaboration. "Paul and I worked for many years together as he designed custom mosaics for each of his elegant architectural projects that we created for him here in Virginia. It was clear to me that he had a wealth of inspired ideas from his tremendous love and experience with Mediterranean and Spanish Colonial architecture and interiors, and so for him to create a complete collection was a natural evolution for us." Paul Schatz started his firm Interior Design Imports in 1977. He works with both residential and commercial projects throughout the United States and Mexico. He lives in both California and Mexico.
The Ay Illuminate story is shared on the Global Lighting blog Global Trends.