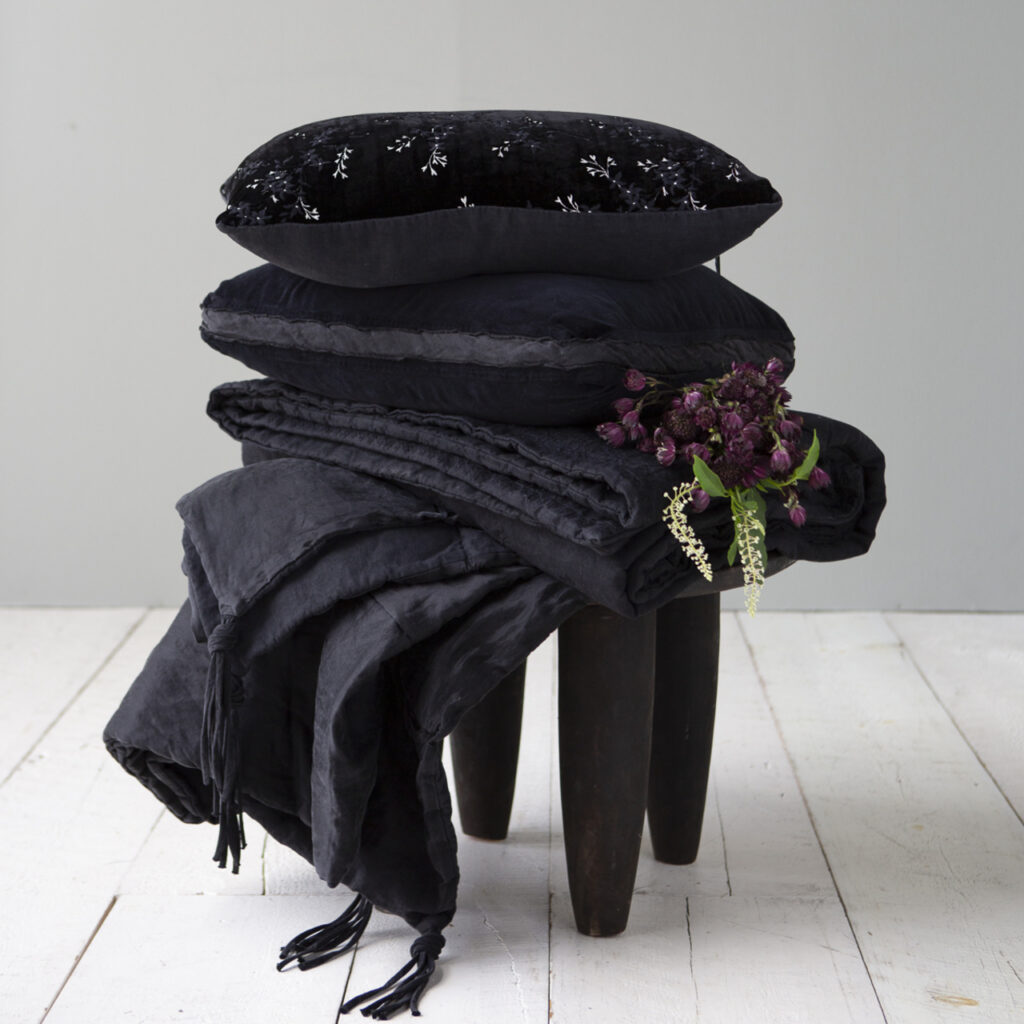 October 20, 2022 (Novato, California) …. Bella Notte Linens is pleased to introduce Corvino, their new color in deepest black. Italian for the visually striking and mysterious raven, Corvino introduces a dramatic black tone in a custom palette totaling 19 hand-mixed dyes. Corvino is a clean hue, without influences from other pigments, which generates a consistent and deeply evocative black. With 11 unique textiles in the Bella Notte collections, each dye must be absorbed and enhanced by the characteristics of the fabric. 
Corvino renders velvets, silk charmeuse, and Tencel™ into glowing embodiments of elegant sophistication. In linen and cotton, Corvino creates an unpretentious and moody matte finish. Corvino accentuates the ornate woven patterns inherent in the chenille Vienna and damask Adele. The embroidered threads of Ines and Lynette are emphasized in Corvino creating a textural counterpoint. CEO and co-founder of Bella Notte, Mitchell Gately explains, "Corvino honors the elegance of black tie glamour in our fashion inspired palette of colors. Sleek, timeless, and stylish, it is THE black I've always wanted in the line."   
Although developed months before Wednesday, the new Tim Burton series was announced, Corvino is the ultimate expression of romantic gothic design. Influenced by the macabre Addams Family, the "Addamscore" design aesthetic is captured with the ornate style of Frida and Linen Whisper pillowcases. The Loulah throw blanket in Corvino with raw edges, enticing eyelashes layered between a decadent ruffle, and backed in satin, is a luminous expression of Morticia Addams' preference for black embellishments.
Designed, cut, sewn and dyed in the San Francisco bay area using the finest materials from around the world, every Bella Notte piece provides the luxury of comfort. Bella Notte honors their commitment to conscious luxury by using low-impact dyes and dyeing to order at a local artisanal dye house. This small-batch, handcrafted process results in creating one-of-a-kind linens. In 1996 Bella Notte became the first machine washable couture bedding for everyday living. Bella Notte products can be found on bellanottelinens.com and in retail locations across the US and Canada. 
###
Top image: Lynette and Harlow Pillows, Ines and Taline Blankets