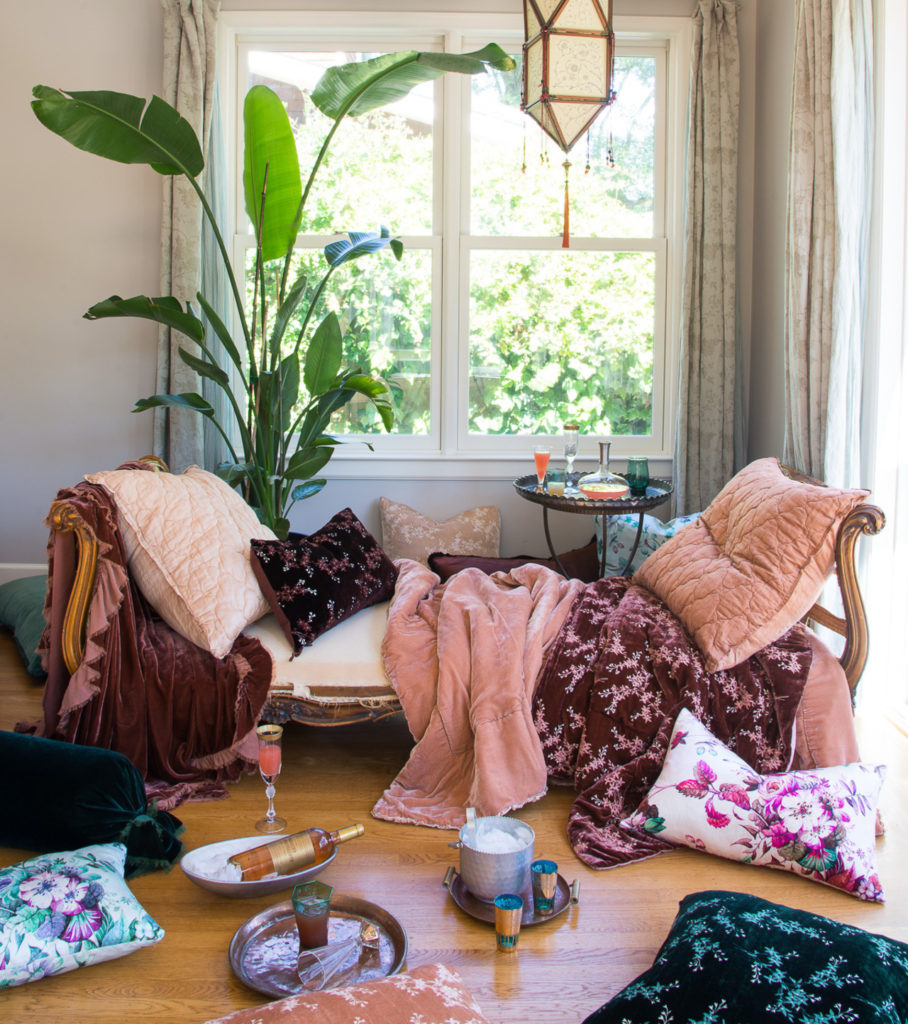 July 15, 2020  (Novato, California) ….Bella Notte, America's original brand of home washable luxury bed linens, is pleased to introduce new Fall 2020 textiles and colors. Fleur is a bouquet of vibrant blooms printed on luminous silk charmeuse, in warm or cool jewel-tones. Lynette is delicate floral embroidery with pale gold accents on softly textured silk velvet. The embroidery pattern was inspired by vintage chinoiserie, and reveals an elegant detailing when Lynette is garment dyed in any one of Bella Notte's 16 hand-mixed colors. Both Fleur and Lynette are available in three decorative pillow styles; Euro Sham, 24×24 Throw Pillow, and 15×24 Accent Pillow. Lynette is also available as a Personal Comforter, one of Bella Notte's signature throw blanket styles.
Two new deep hues join the Bella Notte palette of custom dyes. Jade is a rich, verdant green with subtle blue undertones, while Mahogany is a reddish, earthen brown. Taylor Batlin, brand director, expands on the inspiration, "With our color palette, we are always looking for unexpected combinations. Jade was inspired by the tranquility of the green space provided by indoor tropical plants and our gardens—both of which offer a sense of calm grounding. Mahogany was born from a desire for a saturated, earthy tone that felt natural but could also offer an elegant juxtaposition with our softer hues. We've had such fun layering our core offering of light-tones and midtones against Jade and Mahogany—the depth of these two hues brings vibrant life to our organic palette, inspiring truly unique color play." 
Bella Notte begins the artisanal dye process by hand-mixing a color palette and then dyeing each small batch of product to order. A commitment to conscious luxury insures only non-hazardous and non-toxic dyes are used. The alchemy of working in small batches with a local artisanal dye house, results in slight variances in color, creating one-of-a-kind linens.
In 1996, fashion-turned-bedding designer, Kathleen McCoy, began experimenting with excess rolls of silk and linen to create luxury home textiles that would be durable enough for life with her young children. The result was the first machine washable couture bedding for everyday living. While Kathleen continues to be the guiding visionary behind Bella Notte Linens, the company is a family endeavor. In 2018 Kathleen named her daughter, Taylor Batlin, partner and brand director, creating a multi-generational company. Bella Notte is dedicated to producing heirloom quality bedding all cut, sewn, and dyed in the San Francisco Bay Area. Bella Notte products can be found in retail locations across the country or purchased on bellanottelinens.com.
Bella Notte creates conscious luxury for easy living—artisan crafted and dyed to order since 1996. In an age of far-flung supply chains and mechanized perfection, Bella Notte has worked with the same local makers in Northern California since the very beginning. They preserve a passion for color and luxe design, curating sanctuaries for the modern romantic and their elegant and bohemian soul.