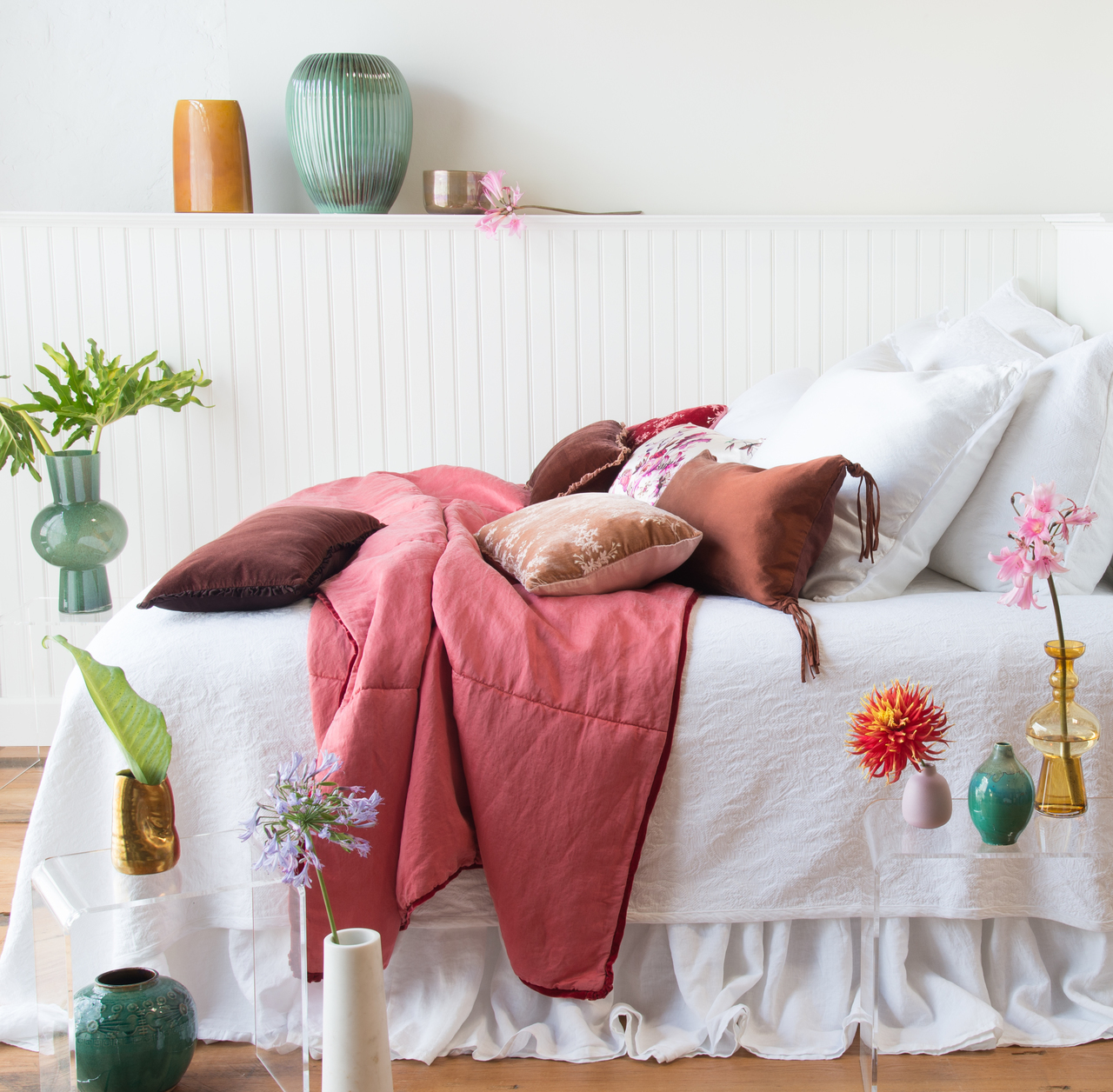 January 5, 2021  (Novato, California) ….Bella Notte, America's original brand of home washable luxury bed linens, is pleased to introduce Taline, Poppy, and an expanded range of products in the embroidered Ines collection.  
The Taline collection is created from glowing silk linen charmeuse with elongated charmeuse tassels.  As a personal comforter, Taline is backed in midweight linen and lightly padded for a layer of warmth. Taline is also available as sham, lumbar, accent, and 24″ square pillows.
Leeta Steenwyk, Bella Notte's Design Director explains the North African inspiration for Taline. "Morocco has a long, rich history in its architecture and interiors. The luxurious riads and palaces are crafted with dramatic lines and intricate details yet there is a sense of spaciousness and harmony. It's this balance, along with the finest artisan materials, which lends a feeling of elegance. Our Taline collection captures this same balance by being playful and elegant, simple and embellished. We've elevated the tassel by using our luxurious silk linen, making them significantly long, and attached to all four corners of each Taline product. The silk gives a lustrous sheen and the linen adds subtle texture and weight, giving them a graceful drape."
Poppy, a radiant new color joins the Bella Notte palette of custom dyes. "We were inspired by the vibrant spice markets of Morocco to add a warm luscious hue, but looked closer to home for the specific color," explains Steenwyk. "While most people are familiar with the paler California poppy, there is also a red California poppy, which is actually a deep orange. These bloom on the hillsides and glow vibrantly in the evening sun." Poppy is found between Rouge and Rosegold on the Bella Notte spectrum of 17 non-toxic dyes.
Ines is an original Bella Notte textile design. Its thick cotton embroidery on midweight linen was inspired by the harmonious geometric patterns in Moroccan fabrics. The Ines collection has been expanded to now include a personal comforter, guest towel, lumbar, accent , and 24″ square pillows. With the expansion of decorative pillow and personal comforter collections, Bella Notte now creates products that can be incorporated throughout the home, in living spaces as well as bedrooms and bathrooms.
Bella Notte begins the artisanal dye process by hand-mixing a color palette and then dyeing each small batch of product to order. A commitment to conscious luxury insures only non-hazardous dyes are used. The alchemy of working in small batches with a local artisanal dye house, results in slight variances in tone, creating one-of-a-kind linens.
In 1996 Bella Notte became the first machine washable couture bedding for everyday living. This year will mark their 25th Anniversary of producing heirloom quality artisan products, all designed, cut, sewn, and dyed in the San Francisco Bay Area. Bella Notte products can be found in retail locations across the country and on bellanottelinens.com. 415.883.3434
top image: Spring 2021 Look Book
####
Bella Notte creates conscious luxury for easy living—artisan crafted and dyed to order since 1996. In an age of far-flung supply chains and mechanized perfection, Bella Notte has worked with the same local makers in Northern California since the very beginning. They preserve a passion for color and luxe design, curating sanctuaries for the modern romantic and their elegant and bohemian soul.