JoAnn reviews the best tile of 2012 in delicate display and jewel hues The Best of Tileista: Tiles and Mosaics from Butterflies to Peacocks.These reviews on the Decorating Diva are roundups of her point of view.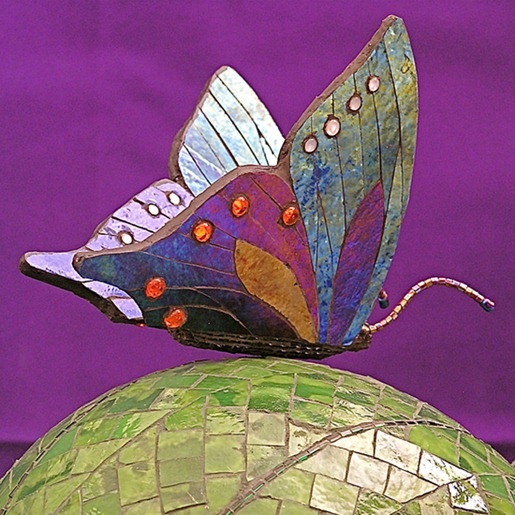 Mosaic Art Now says of Tileista, whose full list of articles live on one page:
"Tileista" is a monthly column that explores the beauty of artisan tile. JoAnn Locktov is the author of two books (Mosaic Art and Style, The Art of Mosaic Design) and numerous articles on contemporary mosaics and tile. Her public relations firm Bella Figura Communications represents creative individuals and businesses in design, architecture, art, and travel. Follow her musings on Twitter.
On a post featuring Marie Gibbons, the editors of Mosaic Art Now note, "All hail The Tileista (JoAnn Locktov) as she once again brings to our attention an artist who makes magic with clay.  Marie Gibbons is an award-winning artisan tile maker whose work, lush with texture and color, makes the organic.." JoAnn wraps this piece by writing, "Growing up on Long Island, Gibbons balances urban reality with the beaches and more natural environment of her childhood. Both co-exist and inspire work that is derived from the freedom to explore." About her article on Susan Tunick, the editors note, "This month, The Tileista (aka JoAnn Locktov) introduces us to ceramic artist Susan Tunick, a woman who makes her own tesserae and uses it to glorious effect in her site-specific sculptures.  No less engaging are her more architectural bricks and tiles." Near the end of the piece, JoAnn writes, "As President of Friends of Terra Cotta, a preservation organization devoted to protecting historic and architectural ceramics, Tunick has studied clay in architecture for over 25 years. She is invested in "seeing ceramics re-integrated into our environment…into landscape, interiors and into the facades of new buildings."  Her work represents this evolution precisely." It truly is worth stopping over and reading the other articles she has there.