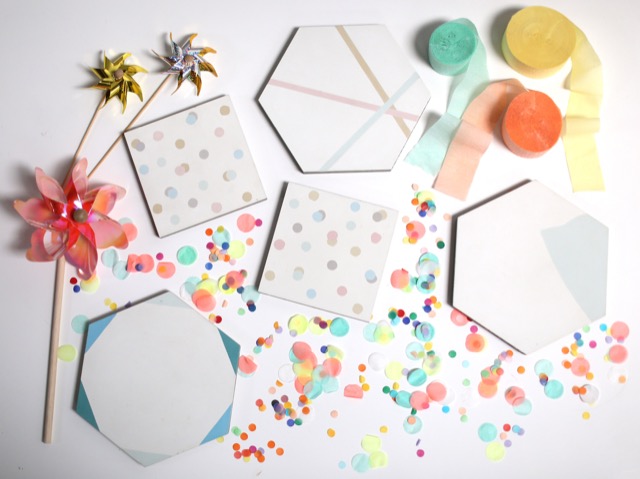 October 5, 2017 (SAUSALITO, CA) — clé is pleased to introduce Oh Joy!, a collection of cement tiles designed by Joy Cho, founder and creative director of the Oh Joy! design studio. The five delicate hued designs come in 6″ square and 8″ hex shapes. Oh Joy! was inspired by the whimsy, pastel colors and versatile patterns that are Cho's signature style. Each tile is hand-crafted from cement and can be installed indoors and out, on floors and walls.
"I have always been obsessed with tile. As a lover and creator of patterns in my work, tile has always offered a fun and modern way to introduce pattern into the home. When working on a recent renovation project that required a lot of tile, I wanted to bring oh joy into the space through our use of tile. I'm so thrilled to partner with clé on our first-ever cement tile collection. The Oh Joy! tile collection offers moments of whimsy, flashes of color, and endless way to create pattern."
Oh Joy! Cement tiles are available exclusively on clé. Deborah Osburn started the international artisan tile e-boutique in 2012. The tiles on clé are as distinct as the artists who create them. It is Osburn's goal to provide a forum for discovery and conversation about what she loves most, tiles created by impassioned artists creating remarkable surfaces.
A bit more about Deborah: the clé founder and creative director has spent her career producing tiles.the act of tile making, along with an affection for art, fashion and design inform deborah's tile collections. She notes, "i enjoy melding opposites- creating historical themes using modern technologies or developing current styles made from archaic methods. for me, the process of making tiles is as significant as the finished product. i'm lucky. everyday i get to take those passions and figure out new ways to produce tile from the depths of my tile making inspirations. because i've been exploring this for some time, that well of inspiration runs deep. "