Jacco Maris Featured in Interiors & Sources
Interiors & Sources talks with designer Jacco Maris, distributed in the US through Global Lighting, and teases out answers to questions like: Describe the secret to your success.
Our power is in our paradox; we are hard materials that curve like ribbons. Our form can be turbulent but our light is serene.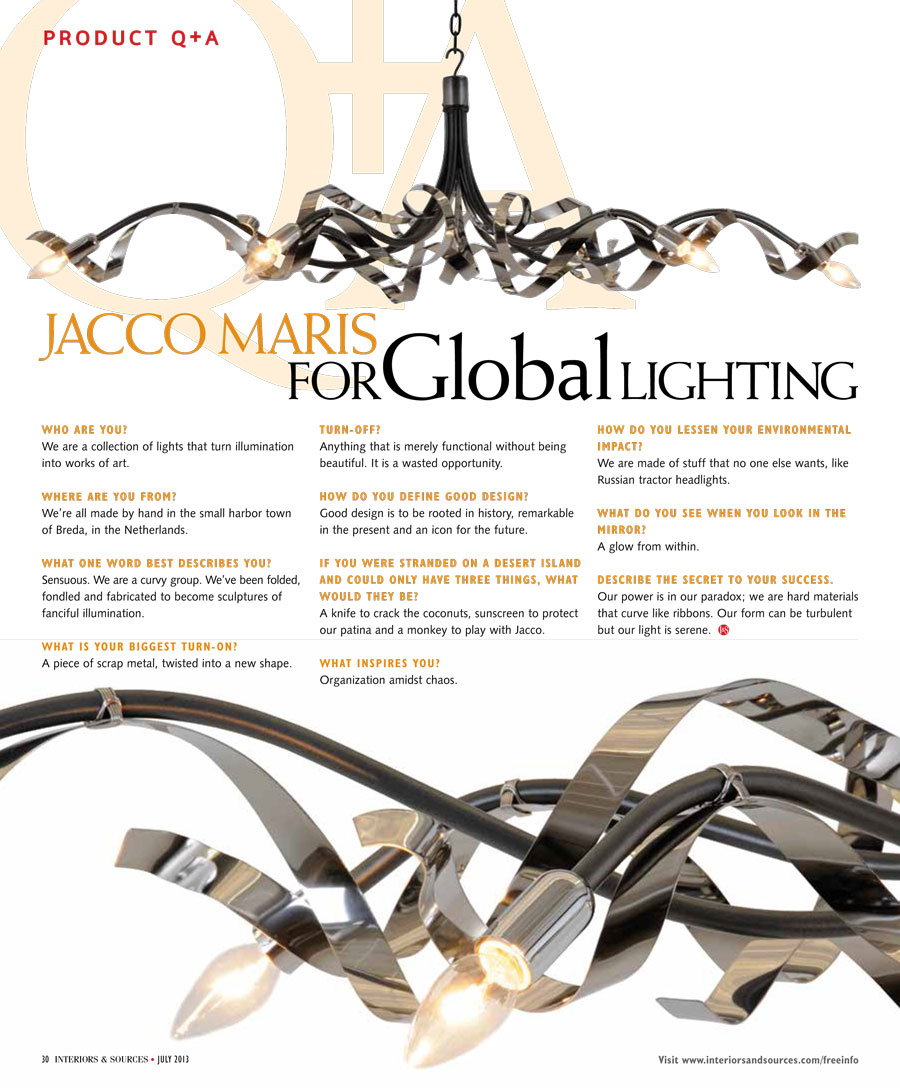 The essential, basic aspects of your home such as windows and lights are the most important thing when it comes to creating a successful interior design scheme. Lighting is key because it changes the feel and then look of a room drastically. Some rooms have limited natural light, which makes lights even more important. You can find out more about the best types of light to include in your homes and spaces by clicking on the link. If you are lucky enough to have natural lighting, then you need to think about the best way of utilising and controlling it. Lights are still important, but only once you have sorted out your natural lighting. For example, these custom vertical blinds by hunter douglas really set the tone for a top-quality, impressive theme. Here, we take a look at the latest trends in lighting, such as this 3form lighting creating beautiful pieces.
About the Jacco Maris collection through Global Lighting:
The collection, which is designed by Jacco Maris and handmade in The Netherlands, consists of five lights made from steel, brass, copper, iron, and sand casted aluminum. The lights are characterized by Maris's devotion to material before form. Regular forays to the local scrapyard inspire the designer with discoveries of twisted metal, industrial hose and odd fragments. The manipulation of metal strips became the first signature element of Jacco Maris light fixtures. The Ruban Plié, Montone and Ode 1647 are all ribbons of metal manipulated by hand to form sensuous curves. A discovery of 500 salvaged Russian headlights led to the Stand Alone floor lamp. Maris finishes the modern industrial Outsider with powder coating to resist oxidation in exterior installations.
Larry Lazin, President of Global Lighting, feels that Jacco Maris "is an artisan in the most creative sense of the word. He puts so much thought into how to create the products he designs, but in unusual ways. He went through 300 prototypes before he was satisfied with the design of the Ode 1647. There are never any shortcuts and each light is made with the same degree of commitment to perfection."
Jacco Maris studied design at Nimeto in Utrecht and the Design Academy in Eindhoven. Originally he worked in window display and started designing interiors when asked by people who saw his environments for retail stores. A client requested a Jacco Maris designed light and in 1996 a new career was born. Maris also collaborates with other artists, his Montone chandelier has a Delft version, hand painted in a 16th century traditional Dutch windmill pattern by Frank de Wit and Ben Quaedvlieg.
Maris's first light was the Ruban Plié which means "bent ribbon" in French. The Montone is a nest of 1″ wide strips in steel or brass. In both fixtures metal waves are punctuated by light. Ode 1647 was created in homage to 17th century chandeliers, using modern material. The armature is silver plated copper mesh, the same high pressure hose found in race cars or elevators. The Outsider and Stand Alone lights exude an industrial spirit, dramatic urban counterpoints to the fluidity of the chandeliers. The lights are UL approved for Canada and the US and available through lighting showrooms. A professional electrician, such as the electrician bentleigh services, will be needed to fit such a grand light fixture, which is a small price to pay for these beautiful creations.