New Ravenna Tiles in Coastal Living
In a roundup titled "Touch of Turquoise," editors of Coastal Living featured the Loom Jewel Glass Mosaic Tile by New Ravenna. The editors dubbed the products being featured "Fab finds for your home, inspired by the colors of the coast. The Loom Jewel Glass Mosaic Tile included are in Quartz, Aquamarine, Tanzanite, and Turquoise. They are $184 per square foot, editors note. The piece is edited by Brielle M. Ferreira and photographed by David Hillegas.
There's no denying that for many of us, living by the coast would be an absolute dream. However, not all of us live by the coast, and so implementing some coastal designs into our homes lets us live out that dream to a certain extent. These calming colors are soothing and will make your home seem airier, as well as giving your space a stylish look. These styles can also be implemented into a coastal home to make it resonate with the beach and the sea even more, so if you're thinking of packing up and buying one of the luxurious coastal homes found at https://reali.com/san-diego-real-estate/, keep these designs in mind!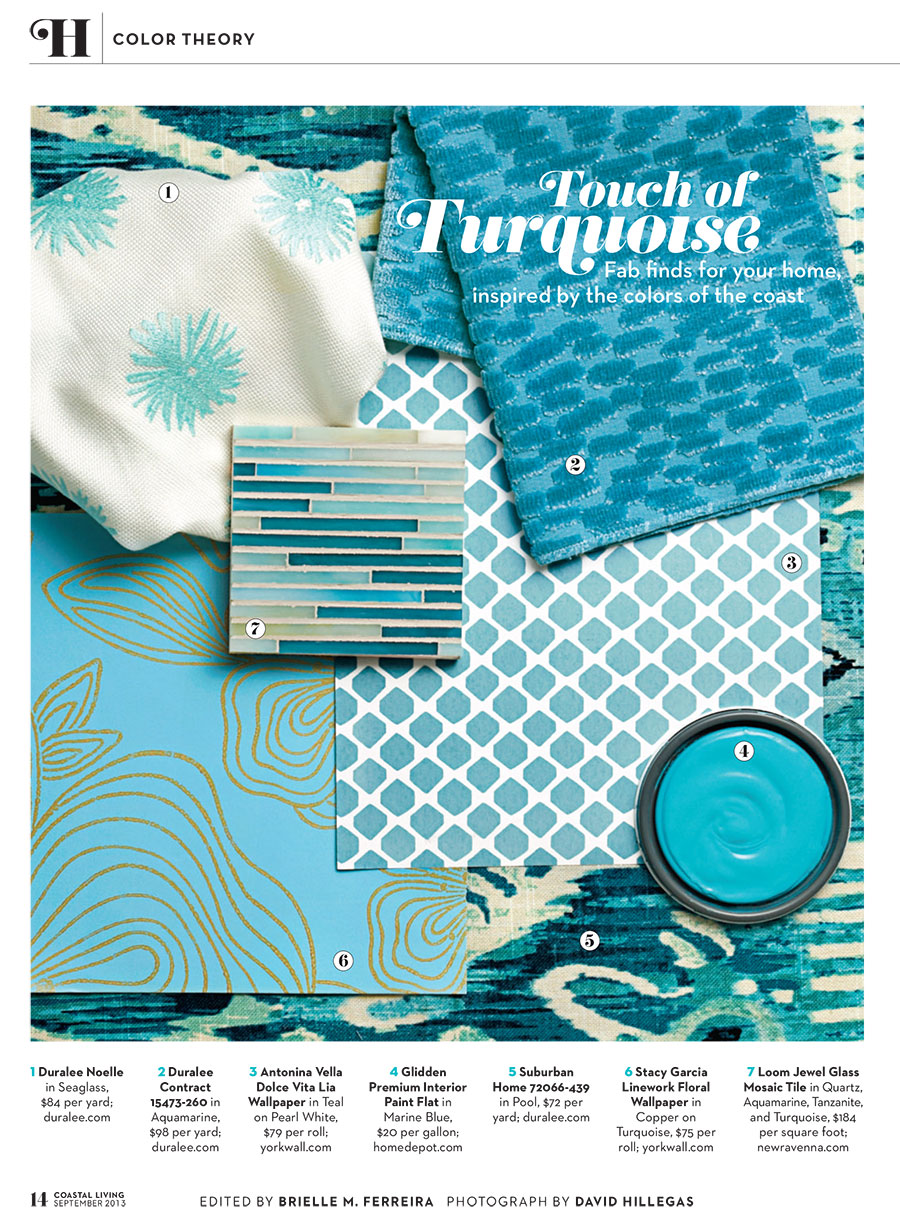 Loom is included in the Ikat Collection in jewel glass. Designer Sara Baldwin has interpreted the ancient textile in her signature style, combining brilliant color and refined texture in jewel glass mosaics. Inspired by her travels along the Silk Road and her personal collection of Ikat textiles, Baldwin has integrated the classic patterns of Central Asian Ikat textiles with the glitter of reflective glass and mirror. The three Ikat patterns, Loom, Weft and Pamir are presented five distinct colorways. The Ikat Collection is handcrafted in Virginia and created in a seamless, repeat pattern for interior vertical surfaces.
Weft, named for the horizontal threads in Ikat fabric, is a subtle palette of Quartz and Labradorite glass inspired by Uzbekistani leaf patterns.
Loom, in Quartz, Aquamarine, Tanzanite, and Turquoise glass celebrates the vibrant color and geometric designs found in contemporary Ikat textiles.
Pamir, in three colorways is a graphic symbol of the Pamir mountain range in Central Asia. The zigzag design is reminiscent of the steep peaks of this high mountain range, called since Victorian times the "Roof of the World."
Ikat, which comes from the Malay word "mengikat" meaning to tie or bind, is a resist-dyeing process that has been used for centuries in India, Japan and South-east Asia and South America. The earliest surviving piece of Ikat fabric is from Japan, dating from the first century. New Ravenna Mosaics now offers Ikat in jewel glass, for an imaginative, sustainable, and durable surface. The Ikat Collection is available at New Ravenna tile showrooms throughout the United States and Canada. It's one thing creating a coastal theme in your home but why not go the whole hog and relocate to a real coast? For example, these New Homes for sale in Brunswick give you a real coastal lifestyle as well as being located somewhere with a rich history.