July 27, 2017 (Exmore, Virginia)… New Ravenna is pleased to introduce Trove, a collection of six mosaics designed by Sara Baldwin. The mosaics are handcrafted by artisans in Virginia using natural stone and lustrous brass and aluminum.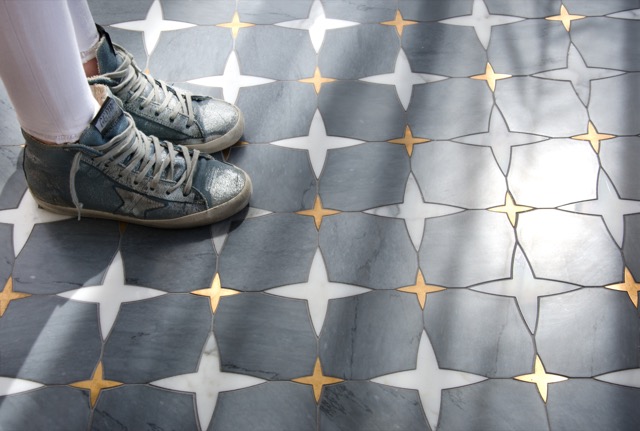 Sara Baldwin was inspired to create a collection that captures the layered colors, patterns, shapes, and illusions of texture, found in the night sky. The mosaics portray stars illuminated against the matte edges of darkness and abstract patterns accentuated by gleaming metallics. She chose cloudy, grey-blue marbles like Bardiglio and Pacifica to illustrate a moody sky in Michael and Simone, while in other patterns such as Astronomy and Orion, stars are intentionally appointed amongst pitch-black Nero Marquina.
Baldwin, founder and creative director of New Ravenna, says of Trove, "Growing up on a farm, our nightly activities often included stargazing. I became appreciative of the patterns and textures since I always had an expanse of uninterrupted night sky to fuel my imagination. When I was conceptualizing Trove, I wanted to recreate the  impression of a matte surface juxtaposed with glimmer. We used metallics to impart both texture and the subtle hint of wavering light you experience when gazing at the night sky. The result is a treasure trove of celestial mosaics."
Each pattern can be fully customized with the client's material preferences to fit the scope of any commercial or residential project. Every mosaic in the Trove Collection can be installed indoors or out, on floors or walls. The collection is available at New Ravenna showrooms throughout the United States, Canada, Europe, Russia, and Dubai.  757-442-3379
####
New Ravenna is America's premier designer and manufacturer of stone and glass mosaics for both residential and commercial installations. The hand crafted mosaics are fashioned into decorative borders, murals, fields, and medallions. Mosaic materials are polished, tumbled, honed and cut to create distinctive styles, subtle shade variations and textures. The installations are custom works of art in mosaic tile, which often incorporate the designs of architects, interior designers and their clients.
New Ravenna products are available for purchase through designer showrooms across the country and internationally. The company provides design services along with on-site supervision of installations. New Ravenna mosaics are found in homes, restaurants, hotels, casinos, and businesses around the world.