The IKAT Collection in Jewel Glass
(Exmore, Virginia)……New Ravenna Mosaics introduces the Ikat Collection in jewel glass. Designer Sara Baldwin has interpreted the ancient textile in her signature style, combining brilliant color and refined texture in jewel glass mosaics. Inspired by her travels along the Silk Road and her personal collection of Ikat textiles, Baldwin has integrated the classic patterns of Central Asian Ikat textiles with the glitter of reflective glass and mirror. The three Ikat patterns, Loom, Weft and Pamir are presented five distinct colorways.
The Ikat Collection is handcrafted in Virginia and created in a seamless, repeat pattern for interior vertical surfaces. Weft, named for the horizontal threads in Ikat fabric, is a subtle palette of Quartz and Labradorite glass inspired by Uzbekistani leaf patterns. Loom in Quartz, Aquamarine, Tanzanite, and Turquoise glass celebrates the vibrant color and geometric designs found in contemporary Ikat textiles.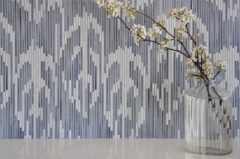 Pamir, in three colorways is a graphic symbol of the Pamir mountain range in Central Asia. The zigzag design is reminiscent of the steep peaks of this high mountain range, called since Victorian times the "Roof of the World."
Ikat, which comes from the Malay word "mengikat" meaning to tie or bind, is a resist-dyeing process that has been used for centuries in India, Japan and South-east Asia and South America. The earliest surviving piece of Ikat fabric is from Japan, dating from the first century. New Ravenna Mosaics now offers Ikat in jewel glass, for an imaginative, sustainable, and durable surface. The Ikat Collection is available at New Ravenna tile showrooms throughout the United States and Canada. www.newravenna.com (757) 442-3379
####
New Ravenna Mosaics is America's premier designer and manufacturer of stone and glass mosaic tiles for both residential and commercial installations. The company's products are handcrafted mosaics, made in Virginia, that are fashioned into decorative borders, murals, fields and medallions. Tile is cut and can be tumbled, honed, or treated to create distinctive styles, subtle shade variations, and textures. The end products are custom works of art in mosaic tile, which often incorporate the designs of architects, interior designers and their clients.
New Ravenna Mosaics are sold through nearly 200 exclusive designer showrooms across the country and internationally. The company provides design services along with on-site supervision of installations. New Ravenna Mosaics are found in homes, restaurants, hotels, casinos and businesses around the world.
[Press Release]