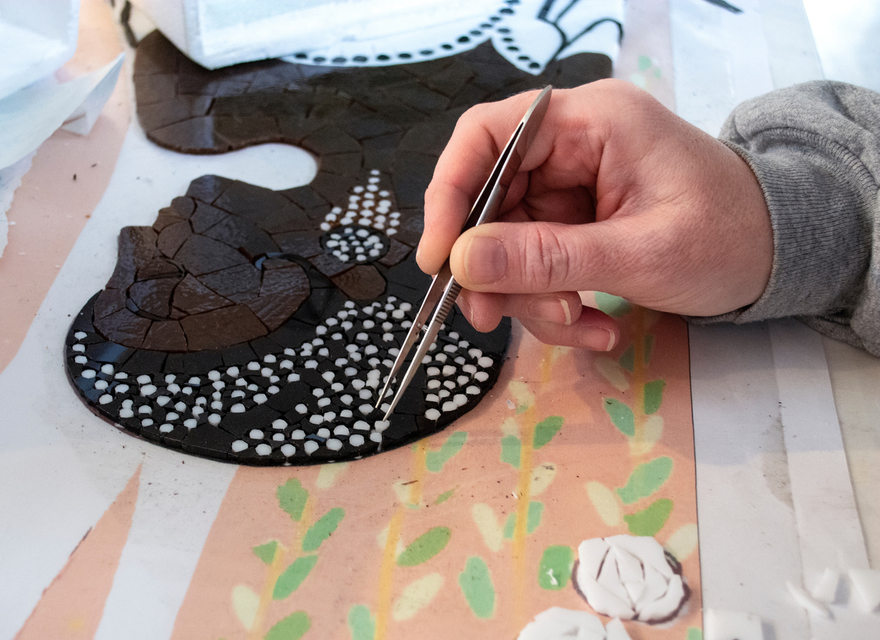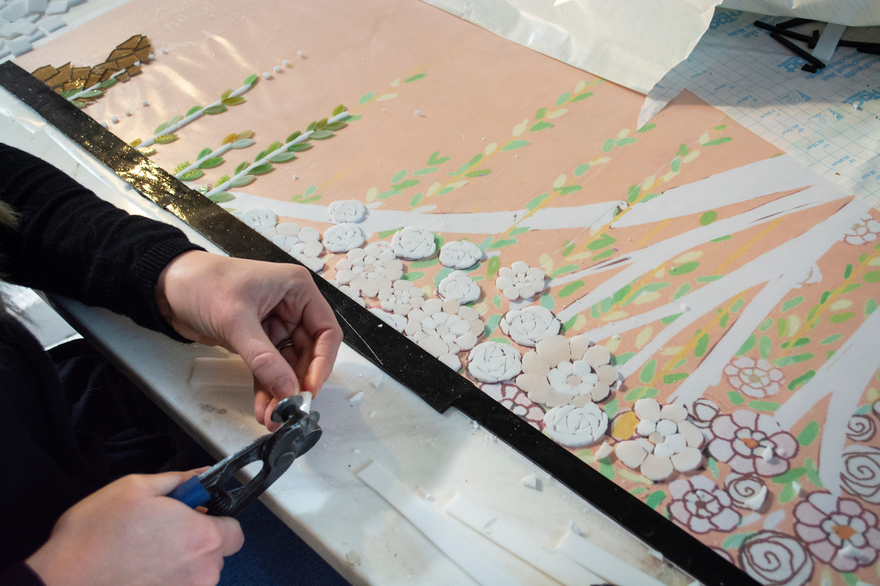 May 14, 2019 (Exmore, Virginia) ...New Ravenna, America's premier designer and manufacturer of mosaics for both residential and commercial installations, is pleased to present two mosaic art panels, La Panthère Blanche and La Panthère Noire. The custom panels are inspired by Erté, the pseudonym of Romain de Tirtoff, the 20th century artist and designer known for his glamorous art deco stage sets, jewelry, costumes, sculpture, and graphic design. The Russian born artist moved to Paris when he was 18 beginning his career as a fashion illustrator creating stylized sinuous women draped in elegant bejeweled clothing. In art deco iconography, the panther is symbolic of independent femininity, grace, and speed. The handcrafted panels are created in Absolute White, Obsidian, Champagne, Peridot, Emerald, and Mirror jewel glass, with a 24k gold glass background. The 3′ x 6′ panels are opposite mirror images of each other, and can be customized in scale, framed as decorative art panels, or installed as part of a functional surface, such as an interior shower wall.
Creative director, Cean Irminger, says of the inspiration, "When we were designing the Bright Young Things collection, we wanted to create an ode to the iconic graphic arts of the Jazz Age. The hundreds of groundbreaking illustrators of the time left us spoiled for choice, but ultimately we decided to design our pieces in the style of Erté, considered to be the father of art deco. The lithe, sensuous feminine figures of his theater and fashion illustrations are timeless in their beauty, with nods to the ancient worlds, Eastern cultures, and abundant sumptuous decoration. We chose to depict our femmes and felines in the traditional deco palette of black and white and laid them on a textured bed of 24k gold as a reference to the magnificent Byzantine mosaics of Ravenna. The versatility of glass made it possible to depict details such as the inert power in the bodies of the panthers, the tiny decorations in the headdresses, and the flower canopies. Thousands of hand shaped tesserae allowed us to use the inherent storytelling abilities of our craft to pay homage to the period and the man himself, Erté."
New Ravenna mosaics are available at New Ravenna Showrooms throughout the United States, Canada, Europe, Russia, and Dubai.
New Ravenna is America's premier designer and manufacturer of stone and glass mosaics for both residential and commercial installations. The hand crafted mosaics are fashioned into decorative borders, murals, fields, and medallions. Mosaic materials are polished, tumbled, honed and cut to create distinctive styles, subtle shade variations and textures. The installations are custom works of art in mosaic tile, which often incorporate the designs of architects, interior designers and their clients.
New Ravenna products are available for purchase through designer showrooms across the country and internationally. The company provides design services along with on-site supervision of installations. New Ravenna mosaics are found in homes, restaurants, hotels, casinos, and businesses around the world.