The World of Interiors editors included tiles in Sara Baldwin's and Paul Schatz's Legend Collection for New Ravenna in the "Inspiration" section of the magazine featuring kitchen and bathroom effects.
New Ravenna in World of Interiors
The collection includes seven mosaics designed by Sara Baldwin Design and Paul Schatz. The textural mosaics are handcrafted in Virginia from combinations of natural stone that have been tumbled, polished and hand chopped. The Legend collection was inspired by ancient textiles, woven to reflect the wonders of geological and cultural landscapes. The subtle palette of colors is determined by the organic qualities of the stone. You might also want to look at interior furnishing outlets such as Lulu & Georgia to see if you can find some furniture that could work well with your new interior.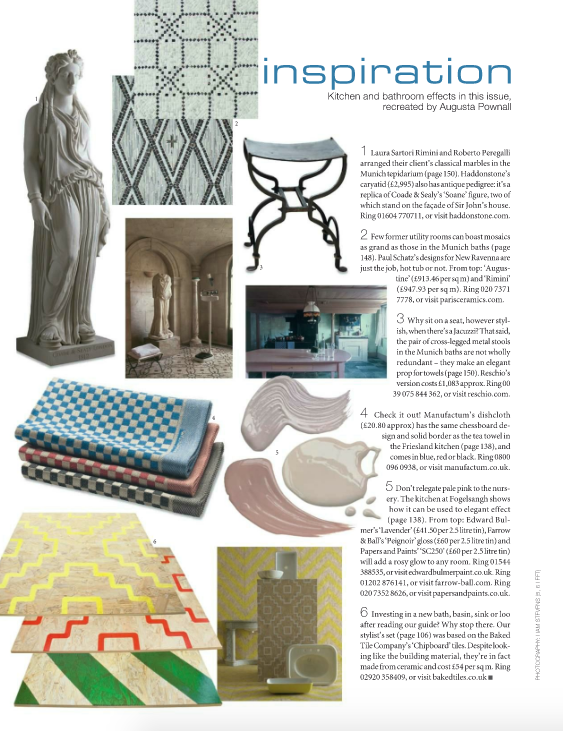 Sara Baldwin, founder and creative director of New Ravenna says of Legend, "As I travel through open-air markets and exotic souks around the world I am enchanted by vintage textiles that exhibit a certain grace that comes from the patina of age. These fabrics contain an artisan's narrative within their seams and frayed edges, that we wanted to evoke in mosaic form. We used the muted hues and striations in the stone to create the shadow of time." Paul Schatz, an interior designer with a passion for pattern and Islamic geometric art, says of his contribution to the collection, "I wanted the mosaics to celebrate diverse cultures by honoring their historic tribal designs." Each pattern can be fully customized with the client's material preferences to fit the scope of any commercial or residential project. Every mosaic in the Legend Collection can be installed indoors or out, on floors or walls. The collection is available at New Ravenna showrooms throughout the United States, Canada, Europe, Russia, and Dubai.
New Ravenna is America's premier designer and manufacturer of stone and glass mosaics for both residential and commercial installations. The hand crafted mosaics are fashioned into decorative borders, murals, fields, and medallions. Mosaic materials are polished, tumbled, honed and cut to create distinctive styles, subtle shade variations and textures. The installations are custom works of art in mosaic tile, which often incorporate the designs of architects, interior designers and their clients.