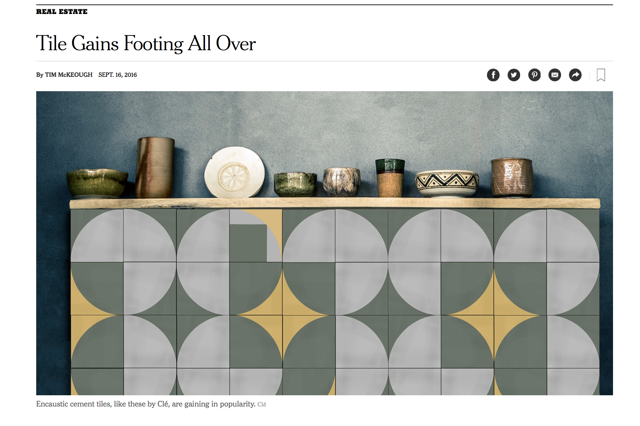 Tim McKeough, who includes tiles by clé in his piece for The New York Times titled "Tile Gains Footing All Over," writes, "If you've been keeping an eye on the ground beneath your feet, you may have noticed an explosion of pattern. It can be seen in public spaces like the Manhattan restaurant L'Amico, designed by Crème; and the Hotel Van Zandt in Austin, Tex., designed by Mark Zeff. And in private spaces, too, like the New York apartment of the actors Naomi Watts and Liev Schreiber, designed by Ashe & Leandro and featured earlier this year in Architectural Digest.
The New York Times Includes Clé Tile
"What all these spaces have in common is flooring made from encaustic cement tile, a material that has been produced in a multitude of colors and patterns since the 19th century, but which was relatively uncommon in the United States until a few years ago. Now its striking look and chalky matte texture are catching on, and a growing number of manufacturers are giving the product a contemporary update."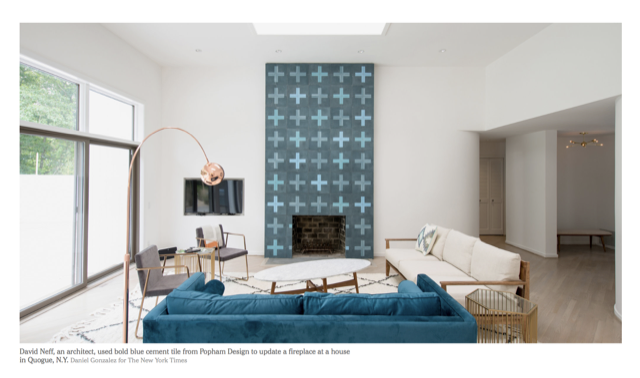 Quoting clé's founder, McKeough notes, "Cement tile is a very different product from ceramic tile, said Deborah Osburn, who founded Clé in Sausalito, Calif., four years ago, and sells the tile for about $10 to $30 a square foot. It's made in a different way, and has to be handled in a different way — a point that contractors who haven't encountered it before may not understand.
"Ceramic tile usually has a layer of glaze on top and is impervious after being fired at a high temperature in a kiln. Cement tile is cured at room temperature, not fired, and the colored layer on top, usually about an eighth of an inch thick, is porous."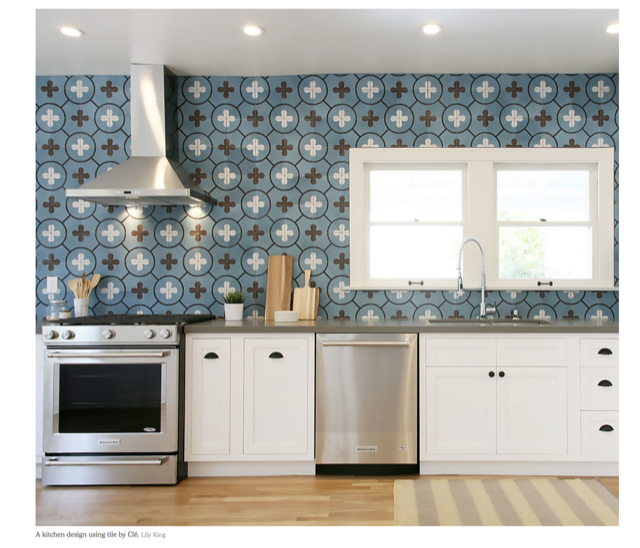 He goes on to say, "It's critical that cement tile be sealed after installation, much as marble countertops are, and kept clean until then. 'One consideration we deal with constantly,' Ms. Osburn said, 'is inexperienced contractors who'll slap the grout all over the tile, which can stain the surface.'
"And even after it's sealed, she continued, cement tile will develop a patina, a change that some homeowners appreciate more than others. For those who don't, the tiles can be sanded and resealed, a process similar to refinishing a hardwood floor."
The Feature Includes these Patterns
Products from the Artist Cement Collection that were featured include Erica Tanov, Gachot Studios and Smink.