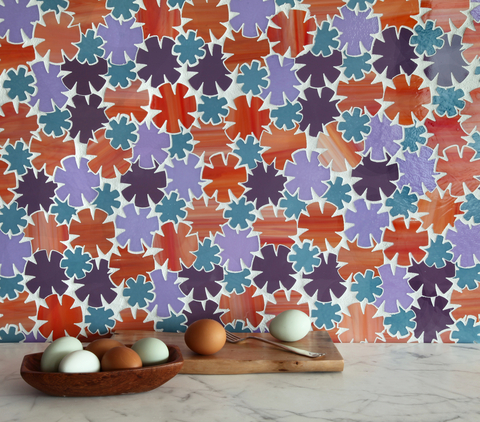 (Exmore, Virginia)….. Pantone has announced their 2014 color of the year, and the magical hue called Radiant Orchid can be found in several of the mosaics that Erin Adams has designed for New Ravenna. The Erin Adams Collection has three designs which include this vibrant shade of purple: Daisies, Kente and Flowers. In each jewel glass mosaic Adams has used deeper colors as contrast to the vivid hue.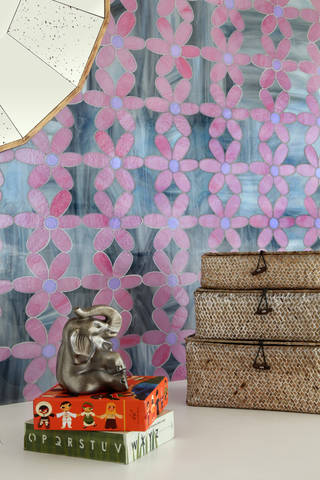 Sara Baldwin founder and creative director of New Ravenna Mosaics says, "Erin Adams is an imaginative colorist. Her love of joyous color give all of her designs an exuberance that is her artistic signature."
The Erin Adams Collection is available in jewel glass or natural stone. In glass it is suitable for vertical interior installations. In stone, the mosaics can be installed indoors or out on both floors and walls. New Ravenna Mosaics tile is available in showrooms throughout the United States, Canada, Europe, Dubai, and Russia.
www.newravenna.com (757) 442-3379
New Ravenna Mosaics is America's premier designer and manufacturer of stone and glass mosaic tiles for both residential and commercial installations. The company's products are handcrafted mosaics, made in Virginia, that are fashioned into decorative borders, murals, fields, and medallions. Tile is cut and can be tumbled, honed or treated to create distinctive styles, subtle shade variations and textures. The end products are custom works of art in mosaic tile, which often incorporate the designs of architects, interior designers and their clients.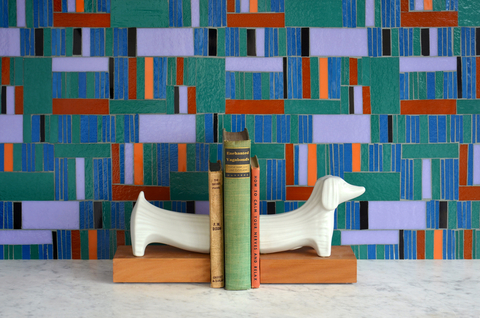 New Ravenna Mosaics sells exclusively through designer showrooms across the country and internationally. The company provides design services along with on-site supervision of installations. New Ravenna Mosaics products are found in homes, restaurants, hotels, casinos, and businesses around the world.
####
[Press Release]