Vicenza, Italy……..Design impresario Cleto Munari has launched his first Furnishings Collection in collaboration with nine international architects, poets and artists. Starting with Italian architect Carlo Scarpa in the seventies, Munari has produced collections of tableware in sterling silver, jewelry, Murano glass, watches, pens, and now limited edition tables. Munari has selected world renowned architects, as well as visual and literary artists, to work in complete freedom without the limitations of market or production constraints. The participants create functional art that reflects their personal design motifs, from the graphic bridges by Mario Botta to the angled swords that slice the surface of Mimmo Paladino's table. Each table in the Furnishings Collection is produced in a signed limited edition of 9, 99 or 999.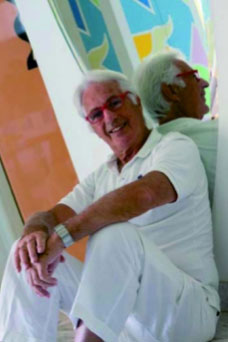 For the first time Munari has collaborated with poets. Lawrence Ferlinghetti and Mark Strand created tables using their language and drawings. Artist Mimmo Paladino was inspired by Paolo Uccello's 15th century masterpiece, The Battle of San Romano. Mario Botta envisions the table as a literal bridge, the suface a cross section of his life's work. Alessandro Mendini engraved his "graphic doilies" in a spontaneous eruption of the architect's conceptual doodles. In tribute to Venice, Cleto Munari's table is called Le Palafitte. The Memphis-inspired cylindrical legs represent the petrified pilings of wood on which Venice is built. The table is currently being exhibited at Villa Contarini as part of the 2011 Venice Biennale.
Munari's friendships with Scarpa, Mendini and Ettore Sottsass inspire his explorations. "My story is a simple one, of friendship with those who have shared my love of art, design, poetry, of working andmaking things in these fascinating, ineffable fields." It has always been Munari's ambition to work with people who "did not belong to the well-defined and limited world of design." For this reason he invites poets and artists to join with architects to create what he considers "an ideal of beauty."
The Furnishing Collection is on exhibition in New York at the GD Cucine Showroom at 227 West 17th Street, and can be viewed at www.cletomunari.com.
Cleto Munari Design Associati srl  +39 0444 323318.
#####
[Press Release]