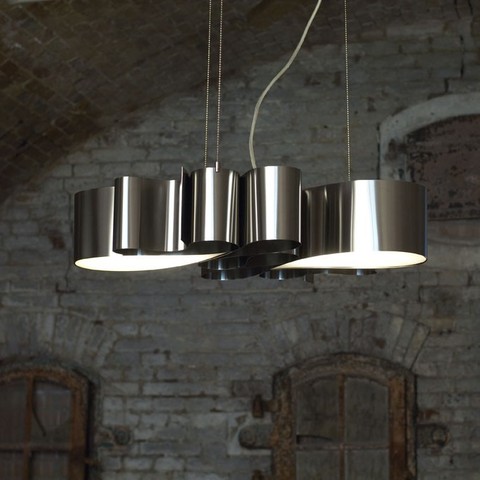 Mt. Vernon, New York……..Global Lighting is proud to present the Paraaf designed by Jacco Maris. Created by hand from a single strip of stainless steel, the light is bent and folded to replicate the intricate pleats of the 16th century collars worn by European aristocracy. This suspension light is an extension of the Maris signature style, the manipulation of metal into soft and languid forms.
Inspired by the rich culture of the Netherlands, Maris was intrigued by the ruff collars that originated in the 16th century and became part of the Elizabethan mode of dress. They were especially popular in Holland, where they were worn well into the 17th century. Maris was challenged to turn his two dimensional drawing into a three dimensional form.
I named my light the Paraaf because the shape is a flourish, just as you would find in an elaborate Renaissance signature.
Larry Lazin, President of Global Lighting, which distributes Jacco Maris fixtures in North America, is drawn to the designer's commitment to honor his past with an innovative use of material. "Jacco Maris has the ability to look both backwards and forwards simultaneously. Using contemporary materials manipulated by hand, Maris reinvents traditional shapes in completely modern ways."
Global Lighting is a New York-based source for aesthetically superior artisanal and architectural light fixtures for residential, hospitality, retail, commercial, and healthcare environments, as well as landscape applications.
Founded in 1991, by Larry Lazin, Global Lighting has a storied history as a manufacturer and distributor of lighting collections cultivated from some of the world's finest manufacturers of contemporary lighting located in Europe. By bringing these fixtures into UL compliance and offering them to the design/architectural trades through lighting reps and to the retail trade through showrooms, Global Lighting is a company devoted to the highest possible quality in terms of products and customer satisfaction.
#####
[Press Release]