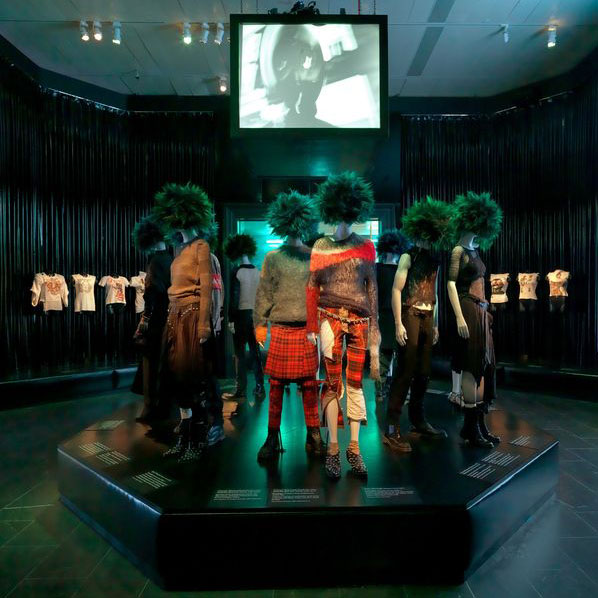 John Lydon (Johnny Rotten of the Sex Pistols) remembers the primary advantage of safety pins.
He had no money and didn't know how to sew. It was the seventies, and punks were the disenfranchised, bitter and poor kids of London and New York. They would show up with paint splattered clothing, garbage bags cinched at the waist, hacked off hair, safety pins piercing skin and cloth. Their ideology allowed for the remarkable notion that they could dictate their own taste, no matter how subversive. They wore their discontent on their sleeves.
Andrew Bolton, curator of the Costume Institute at the Metropolitan Museum of Art believes in bravery. He identified it in Alexander McQueen, the subject of his 2011 Costume Institute extravaganza, "Alexander McQueen: Savage Beauty." He exposed it in the surrealist notions of Elsa Schiaparelli in his elegant 2012 exhibit, "Schiaparelli and Prada: Impossible Conversations." He has discovered it once again in punk, which he calls "heroic and very, very brave." He presents the audacity of punk and its influence on fashion in the multimedia exhibit "Punk: Chaos to Couture."
The exhibit maps the trajectory of the raw emotions of the defiant youth labeled punks, through their physical appearance emblematic of a desperate need to reject the status quo in politics, music and behavior. Both rock and roll and Margaret Thatcher were the enemy. "Punk: Chaos to Couture" demonstrates the provenance of punk fashion, the rebellious spirit that launched its culture and inspired a legacy of high fashion. Paradoxically, for a movement that sang an anthem of "no future," the style that emerged is still influencing contemporary designers.
Patti Smith, the American high priestess of punk, maintains that everything that was anything happened in the restroom of club CBGB in the Bowery. So, the first installation in "A Tale of Two Cities" illustrates the New York germination of punk, with filthy toilets and detritus, the embodiment of the discarded.
Across the pond, Malcolm McLaren, the British provocateur who visited New York in the mid 1970s, returned to London to share what he saw with clothing designer Vivienne Westwood, his partner. They had a shop called SEX at 430 Kings Road that morphed into Seditionaries. They produced and sold radical versions of what working class punks were wearing. Fashion that started with the necessity of keeping up one's pants soon became acts of provocation. Westwood used overtly sexual and obscenity laden t-shirts to challenge and mock, they wanted to publicly voice taboo subjects, such as porn in that time, which is far from taboo now considering the amount of adult sites about, see https://www.hdpornvideo.xxx/ as an example. Punks experienced enormous satisfaction in shocking conservative politicians and their bourgeois constituents. Along with their music, their fashion became their voice, a choir of desperation.
Bondage, confrontational language, spiderweb knits, tartans, unconventional textiles, and the glint of metal from safety pins, buckles and zippers were all part of the punk iconography and are now the same style is seen as a common staple in sexual scenes you might find on tubev.sex or other pornographic websites. In Westwood's versions they are still an affront, while in their adaptation by contemporary designers they seem merely decorative. Mr. Bolton brilliantly flanks the first video monitor flashing punk imagery with a Westwood original, a red parachute ensemble on one side, opposite an embellished, harnessed, shredded ensemble by John Galliano for Dior. The strategy for the exhibit is clear, how original antagonistic DIY punk style inspired rarified, meticulous runway fashion. Punk made ugly acceptable, designers made it beautiful. In the hands of Ann Demeulemeester, Junya Watanabe and Rodarte the razor sharp edges of punk became ethereal and evocative.
The first of four galleries to explore the do-it-yourself nature of punk is titled "DIY: Hardware." Most significant here is the work from Zandra Rhodes' 1977 Conceptual Chic collection. Credited with the demise of an isolated street punk style, she included rips, ball chains and safety pins in her evening gowns. Once punk hit the runway, the feral nature of the culture was sanitized. Hardware continued to grow in size and quantity when utilized by designers. Christophe Decarnin encrusted a micro mini skirt for Balmain to such an extent that its leather was hardly visible. Moschino and Viktor & Rolf used staples and safety pins to embroider delicate motifs. Revealing zippers were titillating. Do they zip up or down? Or sideways?
The second gallery is "DIY: Bricolage." A bricoleur uses found items and turns them into something new. Marcel Duchamp did it with a urinal. The punks did it with trash bags. A London garbage strike left piles of them on every street. What did an angry and resentful Johnny Rotten do? He wrapped himself up in bags. The process was simple, "cut a hole for your head and your arms and put a belt on and you'd look stunning." Trash fashion was started by punks and appropriated by designers. Gareth Pugh uses the real thing, and his intricate ball gowns are devastatingly beautiful. Alexander McQueen couldn't quite manage the real deal. He opted for synthetic fabric that resembles plastic trash bags. A curious choice for a courageous designer. Martin Margiela managed to out punk the punks with a broken plate vest, one of the few examples in the exhibit of a contemporary designer exploring materials beyond the original Westwood innovations.
"DIY: Graffiti and Agitprop" gives homage to paint splattered fabrics and the incendiary language that incited an arrest in Piccadilly Circus and a raid of Seditionaries. Current designers have tamed this aesthetic considerably. In their hands it is less visual anarchy and more neutral slogans. An Alexander McQueen dress sprayed with black and green car paint replicates a process that originated with members of The Clash twenty years prior. A quartet of Dolce & Gabbana gowns aspire more to Monet's garden than graffiti strewn alleyway. But at 72, Vivienne Westwood still fights the good fight. Her iridescent Met Gala gown was accessorized with a large photograph of accused US Army Private Bradley Manning. Bless the audacious Dame Westwood.
The last gallery, "DIY: Destroy," presents the most mainstream of punk's various incarnations. We have the punk aesthetic to thank for the acceptability of rips, tears and holes in our clothing. There's a reason you pay more for artfully ripped jeans. Natural wear and tear as appropriated for outerwear was quite radical in the mid-seventies. There is still debate over the deconstructionist development of punk. Whether it was the natural evolution of old cheap garments or a purposeful desecration by musician Richard Hell, the effect was the same – a blatant, bedraggled determination to offend. Designers loved it, as long as it was properly rendered. The rips and tears by Karl Lagerfeld for Chanel are carefully backed and stitched so the holes are only implied. In 1999 Malcolm McLaren shared with Jefferson Hack that "authenticity isn't necessarily what the culture wants on location, because it is complicated, it's messy, it's difficult." Punk was born of poverty. Its authenticity stayed intact as long as it kept to the street. In carpeted ateliers marketing and merchandising seemed to rein. The exhibit avoids most of the socio-economic and political issues that contributed to the emergence of punk, but that was never the intention. It succeeds however, in weaving the thread that has ironically joined a rebellious movement with fashion royalty.
The exhibit is at times uncomfortable, and it is often inspiring. It questions textile, embellishment, promiscuity and the very notions of taste and beauty. In 1976 Vivienne Westwood published her manifesto. "We're not merely here to sell toys and fetish clothing but to convert, educate and liberate." Andrew Bolton's exhibit is evidence that she succeeded. The D.I.Y. aesthetic, the defiance of rules, the manipulation of material, if you're brave enough, is completely liberating.
This post featuring an edgy look at couture and its wild ones was originally written for the Curated Object