Writing for Vogue magazine, Mieke Ten Have declares a new tile collection by Timorous Beasties "Off the Wall." Designed for clé, the collection represents the creators desire to "turn aesthetic assumptions about pattern upside down."
Full PDF featuring the placement.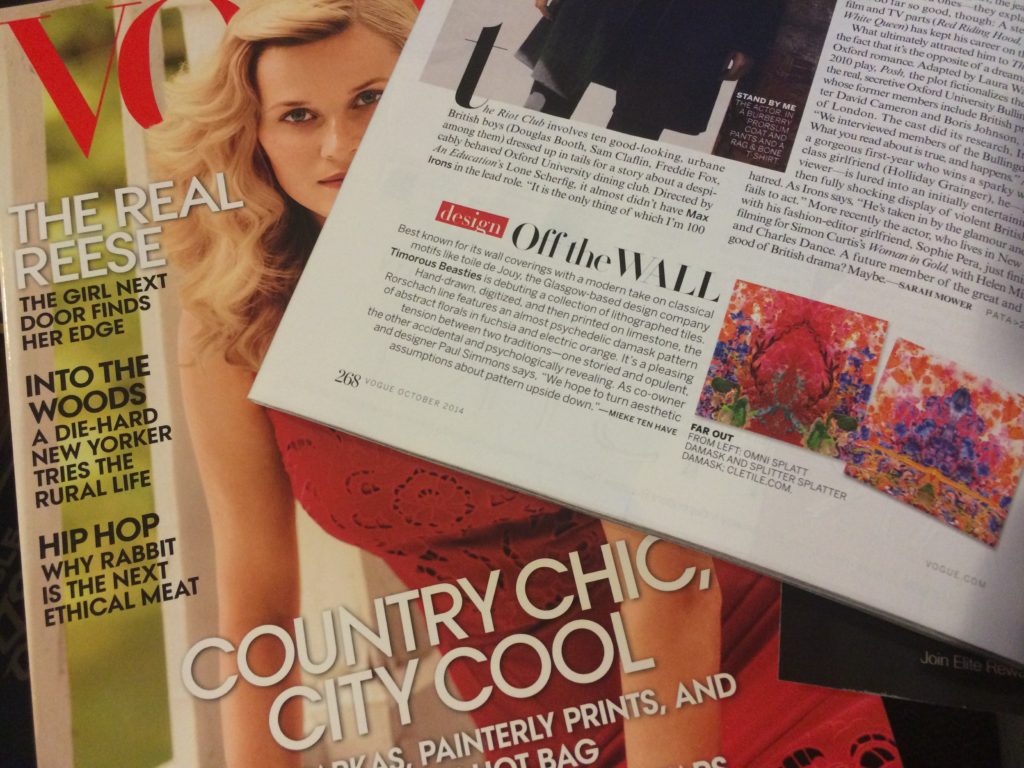 Founder and creative director Deborah Osburn teamed up with the duo behind the design studio Timorous Beasties to bring about the Rorschach Tile Collection. She simply knew it was time for Timorous Beasties to bring their captivating point of view to bear on the material she loves so much. Alistair Mcauley and Paul Simmons, the duo behind the TB brand, used traditional damask motifs that originated in the ninth century as the jumping-off point for these designs. Taking it one step beyond the beyond, they integrated their damask drawings with Rorschach conceptual imagery. If you think there's a fabric-like dexterity to the designs, I'll give you extra points for your insightfulness because Mcauley and Simmons met while studying textile design at Glasgow School of Art; then founded their studio, which has since achieved international acclaim, in Glasgow in 1990.
When they dreamed up the collection five new compositions were born and then hand lithographed onto 12″ x 12″ limestone or Thassos marble tiles. They are fully aware that blotches, splats and drips are normally regarded as disordered accidents, but by re-contextualizing the damask and using it as a vehicle to carry Rorschach-esque symmetrical imagery, they made beauty out of something normally considered repellent.
The new products are a testament to Osburn's think-outside-the-box attitude, as she does not confine her collaborations to existing tile makers. Along with working with some of the world's top tile designers, she enjoys tapping artists and designers who haven't thought to consider their creations within a tile concept. Seeing products like rugs, textiles, or artworks like paintings and sculptures always makes her wonder how the motifs would look on tile. That's some serious vision behind the unique selection of products she offers online.