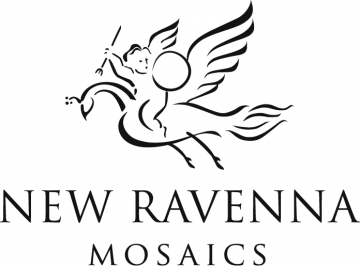 (Exmore, Virginia)……..A Roman mosaic floor from Lod, Israel is currently on exhibition at the Metropolitan Museum of Art. It dates from about AD 300 and depicts marine animals, ferocious beasts, ships, and interlocking cable borders.
Today, on the Eastern Shore of Virginia, Sara Baldwin, founder of New Ravenna Mosaics, uses identical mosaic techniques and materials to create modern interpretations of ancient designs. In the New Ravenna workshop artisans still place one stone at a time to fabricate the intricate mosaics that grace interiors and exteriors throughout the world.
Baldwin collaborates with interior designers and architects to produce collections and bespoke installations revealing distinct palettes and custom narratives. The process is the same one as used by the mosaicists in Lod who created, almost 2,000 years ago, a dynamic floor reflecting the owner's unique personal mythology.
Marble is cut into small squares called tesserae and then tumbled to achieve the billowy and weathered texture of an ancient surface. The tumbling process creates warm edges that are soft in appearance only. The durability of the stone is not diminished. Rich colors like Aegean Brown, Jerusalem Gold and Rosa Portogallo reflect the traditional Roman spirit. New Ravenna's contemporary designs, such as Edies, use Blue Bahai, Carrara and Badiglio in abstract swirls. Lush hues of stone are evocative of the distant land from where they are unearthed, from Tuscany to Macedonia.
It was after visiting a Met exhibit in 1989 that Baldwin, inspired by a Roman mosaic floor, discovered the means and focus of her desire to create functional art. She submitted a mosaic for her MFA thesis at the University of Pennsylvania. Classic Roman African designs were the first motifs offered by Baldwin at New Ravenna. Her contemporary interpretations now honor the original aspirations of this historic craft while more fluid patterns reflect the rhythmic cadence found in the natural world.
www.newravenna.com   (757) 442-3379
#####
[Press Release]