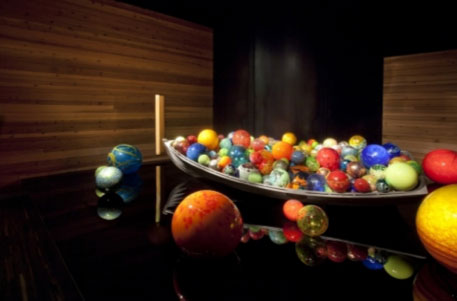 The Chihuly Collection Showcased at the Morean Arts Center
Designed by Alberto Alfonso, AIA
Tampa, Florida……………The Chihuly Collection located in St. Petersburg, Florida, designed by award-winning architect Alberto Alfonso, AIA, is the first installation of world-renowned artist Dale Chihuly's art in a building specifically designed for that purpose. The exhibition, theater and retail space opened July 10, 2010 and is the result of an intimate collaboration between artist and architect. "Early in the design process," Alfonso notes, "we discovered a shared affinity for the works of Italian architect and glass artist Carlo Scarpa. This became a common thread for the materiality and presentation strategies which drove the richness of palette that includes western red cedar, venetian plaster and raw steel."
Alfonso transformed an existing 10,000-square-foot concrete shell into 12 individual environments which respond directly to the theory and basis of Chihuly's art. These "dreams" first realized in delicate watercolors by Alfonso, are transitioned by a series of deep portals. Chihuly's glass and works on paper exist on a pathway of apertures, anticipatory views, kaleidoscopic reflections of fluid light and undulating curves. The sensuous folds of the Chandelier Room trace an Alvar Aalto vase turned upside down.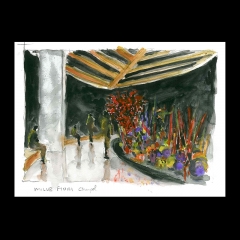 Brilliant Mille Fiori are displayed on an elevated oval plinth, with Romanesque beams above to herald a contemplative chapel. The Float Boat drifts on an ink black Venetian canal, a buoyant celebration of Carnevale. 100-year-old heart of pine salvaged from the Suwannee River tops metal armatures, a detailed triumvirate of steel, wood and glass. There are no barriers to the art, recessed steel troughs delineate a boundary more intuitive than physical. The senses are engaged with aromatic cypress and the humming tips of the Blue Neon Tumbleweed. Travertine tile multiplies reflections, Macchia shadows dance on cypress walls, matte steel absorbs radiant color in soft focus.
"The opening of the Chihuly Collection is truly one of the proudest moments of my career," claims Chihuly. "The Chihuly Collection would not be the spectacular space that it is today with out the hard work, vision and dedication of my dear friend and architect Alberto Alfonso who transformed the space into a spectacular architectural environment to showcase my work." The Seattle-based artist is credited in leading the development of complex glass sculptures and environmental art, as well as transforming the contemporary art glass movement.
Alfonso Architects, Inc. is a 30 person architectural design firm with current offices in Tampa Florida, Philadelphia, Pennsylvania and Milan, Italy. The firm was founded in 1988 by Cuban born brothers Carlos and Alberto Alfonso and Angel del Monte. Alfonso Architects has won over 40 project-specific AIA Design Awards. Representative design projects include the Nielsen Media Research Global Technology Center, a 650,000 square foot office and technology campus in Oldsmar, Florida and the Tampa International Airports Southwest Airlines Terminal, a 110,000 square foot airside. Both of these projects received the AIA Award of Honor.
Philosophically, Alberto Alfonso's design process relies on the development of a project-specific architectural design idea that is grounded in site, program history and region. An accomplished painter, Alfonso's process also utilizes painting, sketching, wood and steel models, and 3D computer technology to investigate design solutions. His work is heavily influenced by climate and the celebration of light referencing his Cuban heritage. There is a strong emphasis on materiality investigation to achieve an architectural expression that is both timeless and vigorous in detail. Alfonso Architects, Inc. is LEED certified.
###