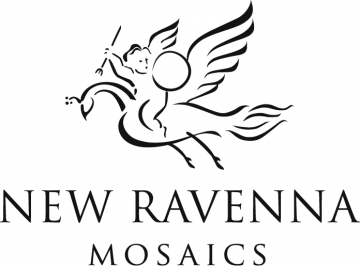 (Exmore, Virginia)……..New Ravenna introduces the Silk Road Collection of marble mosaics. This artisan collection is offered as a modern reflection of the road traveled for 3,000 years by nomads, traders, pilgrims, and armies, the trade route that connected Europe, Africa, India, China, and Japan.
Sara Baldwin, founder of New Ravenna has been inspired by the Silk Road for the last two decades, exploring her mosaic forebears. The collection consists of thirty patterns. Each is an interpretation of its Silk Road antecedents, blending Eurasian materials with contemporary design elements. According to Baldwin,
The collection brings us home, distilling my own pilgrimages into steps that further the path of New Ravenna's design odyssey.
The Silk Road Collection is presented in a simplified palette of five marble colors. Each of them recalls its exotic provenance: Thassos, Calacatta, Carrara, Bardiglio, and Nero Marquina. New Ravenna calls this color narrative a tabula rasa, Latin for a clean slate. Each pattern is distinctly revealed and could be imagined in any of the thousands of color combinations New Ravenna is capable of rendering in glass or stone. The marble is honed, tumbled or polished, creating a counterpoint of reflective and matt surfaces, equally durable indoors or out. Shapes with fluid edges are cut by water jet. Individual hand cut mosaic squares, or tesserae, suggest a classical Roman influence. As with all New Ravenna offerings, following an enduring tradition that spans the length of the ancient Silk Road, each individual piece is patiently placed by hand.
New Ravenna is America's premier designer and manufacturer of stone and glass mosaic tiles for both residential and commercial installations. The company's products are handcrafted mosaics, made in Virginia, that are fashioned into decorative borders, murals, fields and medallions. Tile is cut and can be tumbled, honed, or treated to create distinctive styles, subtle shade variations, and textures. The end products are custom works of art in mosaic tile, which often incorporate the designs of architects, interior designers and their clients.
New Ravenna mosaics are sold through nearly 200 exclusive designer showrooms across the country and internationally. The company provides design services along with on-site supervision of installations. New Ravenna mosaics have are found in homes, restaurants, hotels, casinos, and businesses around the world.
#####
[Press Release]