Indus Stone mosaic tiles by James Duncan for New Ravenna and the clé Pattern One cement tile by Gachot Studios in black, white and himalaya were tapped by editors of Architectural Digest for "Baths" in the April 2017 issue. "Be so Bold," the editors declare; "Bedazzle the nearest bath with today's most tantalizing tiles—it's all about punchy patterns, hip hues, and mesmerizing mosaics."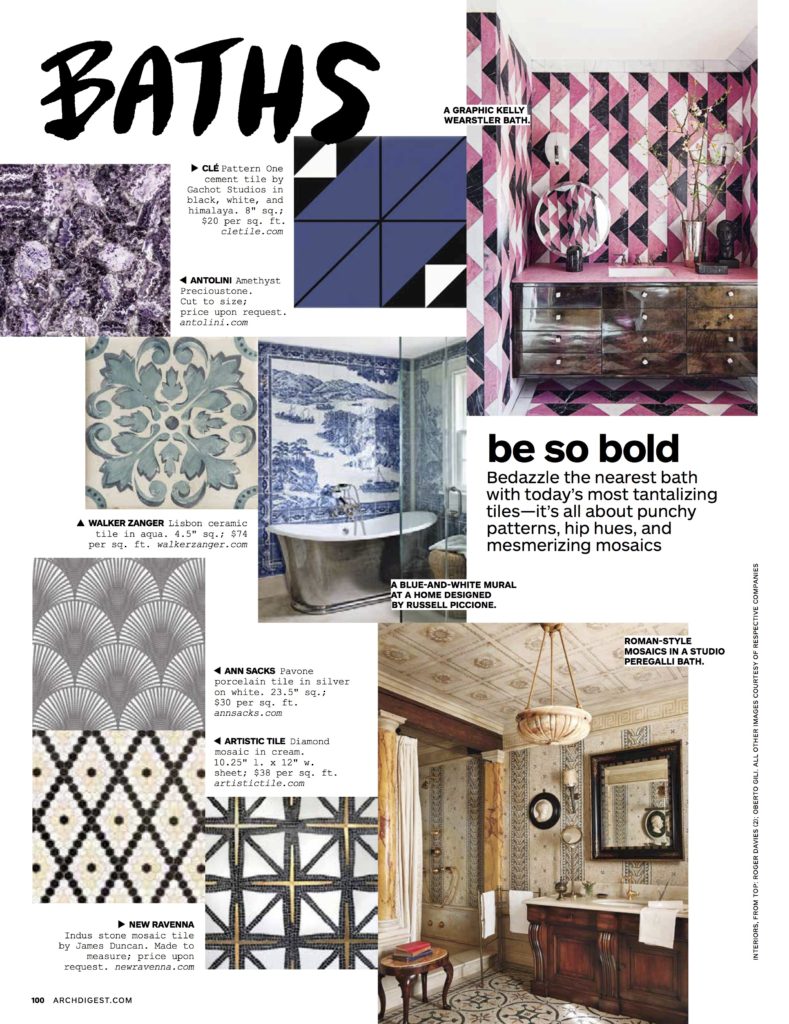 Of their cement tiles, clé says, "Here is our modern take on a historic tile that, over the past 150 years, has been referred to by dozens of names including encaustic cement tiles, cement tiles, concrete tiles, hydraulicos, cuban tiles, and so on—all  alluring tiles that have stood the test of time and have echoed their beauty across many continents." clé creates one of the finest cement tiles in the world, and this quality still permeates a surface which is muted, varied, matte and silky. Cement tile patterns have variegated colors that make them one of today's most sought after tiles for walls and floors, and indoors and out.
Gachot Studios was founded by John and Christine Gachot as a collaborative environment with service as it's core principle; the couple melds timeless craft with modern technology to create interiors, architecture, brands and identities with a refined aesthetic and sincere sense of place. Simplicity, elegance and acute attention to detail are their guiding values, as every project is treated as a unique expression rather than the vehicle for a rigid aesthetic. First and foremost, we are collaborators with our clients, friends, fabricators and families.
James Stuart Duncan calls his design philosophy "a well-traveled aesthetic" or "disciplined eclecticism." This shows in the design of  his Indus Stone mosaic tiles for New Ravenna. "It not only reflects our personal biographies having lived in Asia, Africa, and Europe, but we believe that all truly interesting houses are a harmonious fusion of various times and places. Designs must be thoughtfully composed, but should not look as if they came straight off a showroom floor." James Duncan is a recipient of a 2017 Architectural Digest "Great Design Award" for New Ravenna's Indus stone and bronze mosaic tile design.