The clé Chinoiserie series is featured in AD Italy, the gold background ornamented with the traditional patterns depicting birds and flowers a luxurious decor element.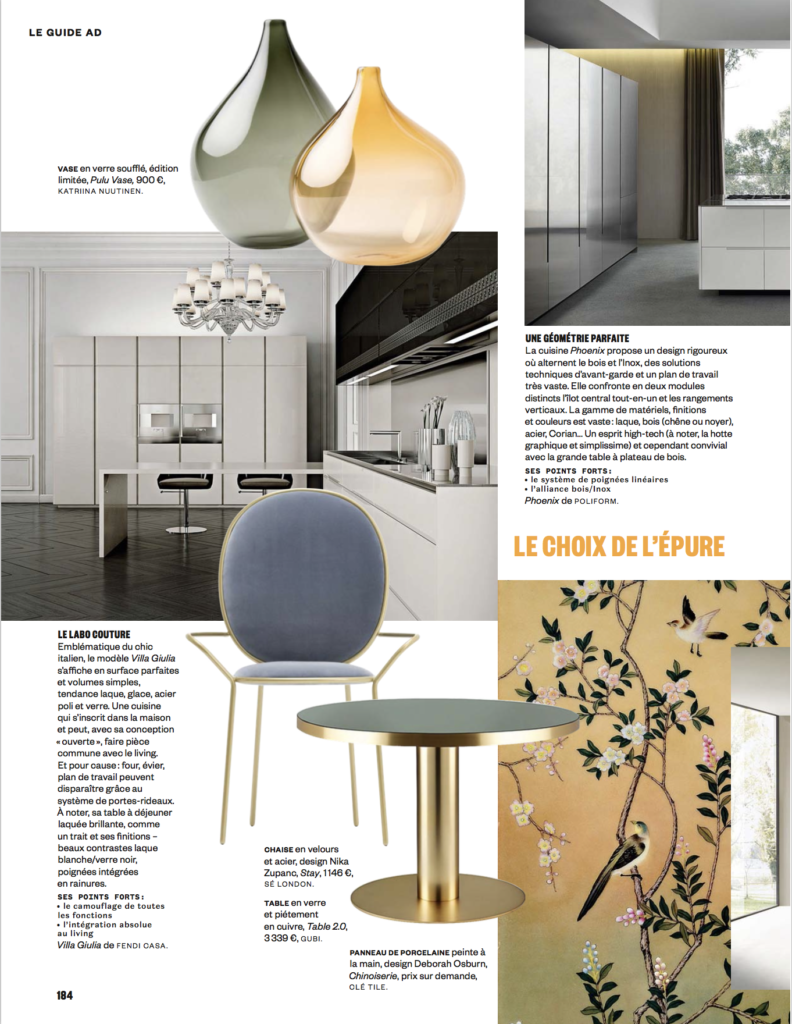 Chinoiserie is a clé collaboration inspired by 17th- and 18th-century French paintings depicting imaginary chinese scenery. Using fine china paints to masterfully depict every stroke and detail of these whimsical motifs, clé has collaborated with authentic chinoiserie artisans and their seemingly endless catalog of flora and fauna, as well as provincial and dynastic scenes. This collaboration is a bespoke service from clé that has been created to transform large chinoiserie panels (up to 3 feet x 6.5 feet in size) into fine porcelain scenes depicting scenes each client envisions. There is a FAQ section on this series of designs if you are looking to add a touch of the orient to interiors. Several facts to note: Chinoiserie is made by artisans in China and we cannot safely ship larger panels; and artists can customize imagery, but clé does not do portraiture. Also, there is an additional fee for artwork.
clé also notes, "In order to create your porcelain wallcovering we will need the following selections from you to start your design: color palette, theme & size. our artists will work with your visual elements to craft your very own chinoiserie masterpiece" There are suggested panel colorways on their site; and their instructions explain this tile treatment is useful in all area's that standard wallcoverings are challenged, such as kitchens, baths, exteriors, showers, fireplaces etc. This collection  is a stand-out for spaces aspiring to the elegance created by traditional silk painted chinoiserie scenes that require the function of delicate, yet long wearing porcelain. Adding a design of such uniqueness is a coup, as this exclusive collective designed by Deborah Osburn is created by an elite group of chinese artisans with years of ceramics mastery.