New Ravenna mosaics are featured in AD France, the editors tapping the Mod Drops pattern designed by Erin Adams for its "Le Style" section.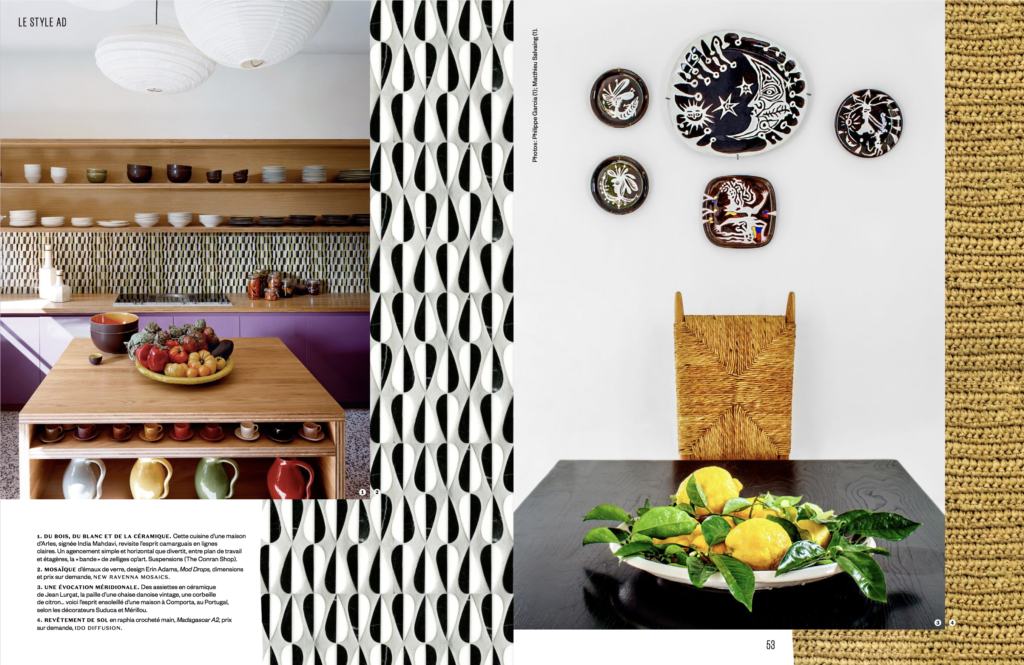 Product designer 
Erin Adams
has been creating mosaics during a twenty-year career that has also encompassed housewares and interior design. Known for her vivid palettes and experiments with stained glass, Adams celebrates folk art traditions to mid-century graphics while paying homage to the artists that have inspired her. The first Erin Adams collection for New Ravenna Mosaics includes twelve designs ranging from the continuous line mosaics inspired by Italian still life painter Giorgio Morandi to African textile
kente cloth. Adams has playfully reproduced venerable Italian smalti in stained glass, replicating the shape of the legendary material in a riot of colors. Pop plays significantly in her treatment of objects from the natural world – flowers, coral, clouds, fish, and hearts.
In addition to the core selection of jewel glass colors offered by New Ravenna Mosaics, Adams has incorporated additional opaque hues and named them after the design icons she admires. Aalto, Girard, Knoll, Ponti, Zeisel and Eames all have a place in her personal color vocabulary. Adams turns drops of water into mod cartoons using black and white stone, artfully allowing the grout to play a significant role—creating the very pattern that AD France chose to feature. She says, " I wanted to create a happy and refreshing collection. Although I'm known for color I also wanted to see the patterns in white with a contrasting grout color. This allows the pattern to speak for itself in a clean and defined way. In the white mosaics grout becomes part of the design element." The Erin Adams Collection for New Ravenna Mosaics in stone can be installed on floors and walls both indoors and out. The jewel glass mosaics are suitable for interior vertical installations.