Clé is featured in Elle Decor
In this tile feature titled "TOOLBOX" Mieke Ten Have deems these tiles fitting for "Starting over-or just refining what you've got? These inspiring ideas and terrific products will improve any room in the house."
She goes on to say: FAIR AND SQUARE The new artisanal tile firm clé has teamed with South African painter Ruan Hoffmann for a limited-edition series of limestone squares with bold, hand-drawn graphics. The 12″ sq. tiles cost $120 each and come in three colors (delft is shown); a smaller size is also available. Who knew tile painting was possible? Due to their incredibly durable nature, it is easy to assume that tiles cannot be covered permanently, however, not only is it possible to paint over a tile color you don't like in your own bathroom (take a look at these tile painting tips before you try it), it is also possible to buy beautifully hand-painted examples like these.
View the Full Article PDF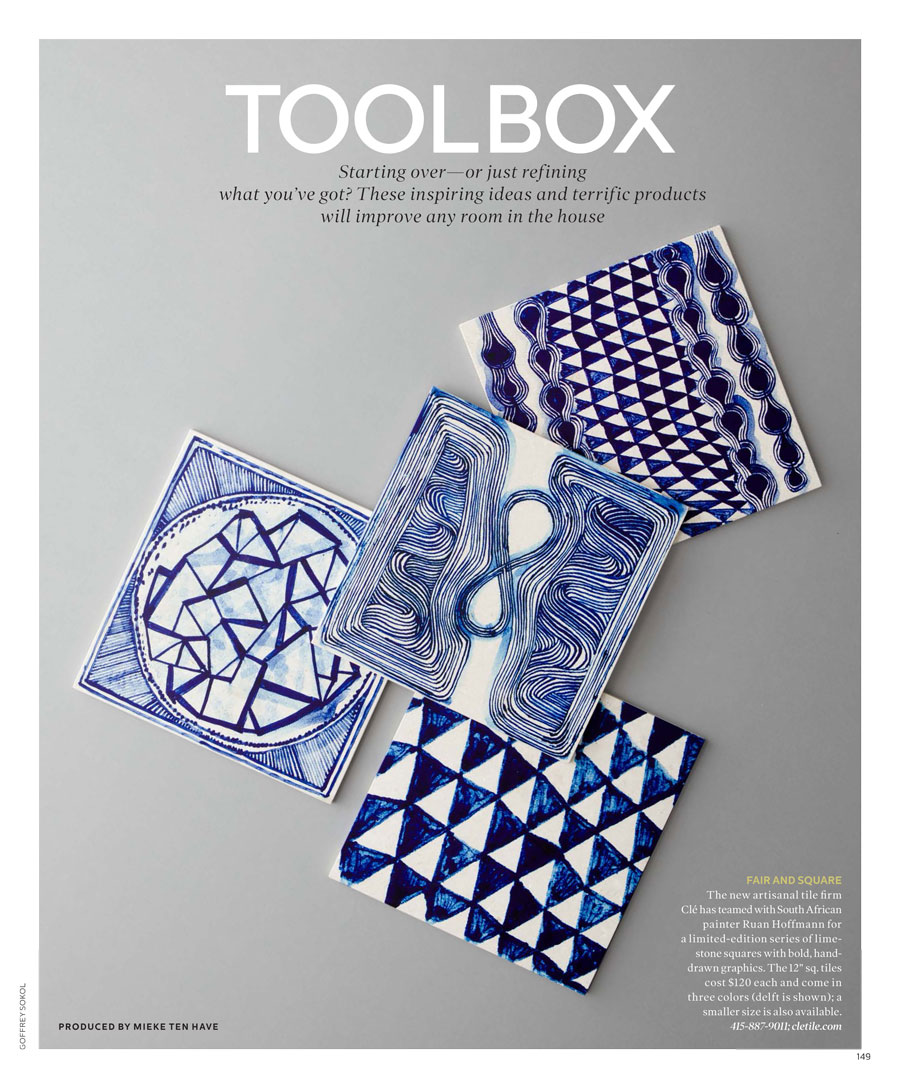 clé calls Ryan Hoffman "a much celebrated and discussed artist from johannesburg, ruan hoffmann is, foremost, a painter. he also happens to paint on ceramics. his vessels and tiles are a rather unsuspecting backdrop to his provocative iconography and whip-smart one liners. armed with a paint brush and the ability to startle with a single stroke, hoffmann's works are potent. but it is his use of ceramics that gives both the viewer and hoffman an additional dimension in which to encounter his art – hoffmann says that what he likes about ceramics is the surprise element."
"i don't know what will happen at the end. it's exciting to see what happened, when it comes back from being fired." – ruan hoffmann
Hoffmann's Postcards From Myself series has been wildly popular in the press:
Postcards From Myself consists of 25 designs, each hand lithographed on an 8″ square encaustic cement tile. Hoffmann is an internationally exhibited painter who uses ceramic as his canvas. This is his second tile collection for clé, though first in the historic tradition of using multiples of four tiles to complete each pattern. The collection was inspired by Hoffmann's travels around the world. Hoffmann started the design process by painting 6″ x 6″ postcards, each representing a memory from his travels.
I live in Paris half the year, and spend several months traveling. These designs represent my connections to the oceans where I have swum, ancient cities I have explored, the shadows and exuberance of animals and plants.
Each cement tile is compressed, cured and then hand lithographed in a process that replicates Hoffmann's original brushstrokes.
Deborah Osburn, founder and creative director of clé, explains how the tiles are made,
We start with the encaustic process of compressing and curing a cement tile in a mold and then we use lithography to essentially capture the spirit of Ruan's hand. Lithography allows for a precise rendering of a pattern, and so the finished tile looks hand painted. The process for this collection is a centuries old technique coupled with modern technology.