Born in Spain, raised in Paris, Mariano Fortuny moved to Venice in 1889, a young man of eighteen. There, he elevated the minor arti decorative to the status of fine art. A "furious Wagnerian", Fortuny was mesmerized by the emergent technology of the late 19th century. He added to it by inventing his own theatrical lighting and photographic paper. He designed and built stage sets, created fabrics and fashion. Fortuny sought inspiration from Carpaccio and Bellini, in order to infuse his Venetian life with Renaissance splendor.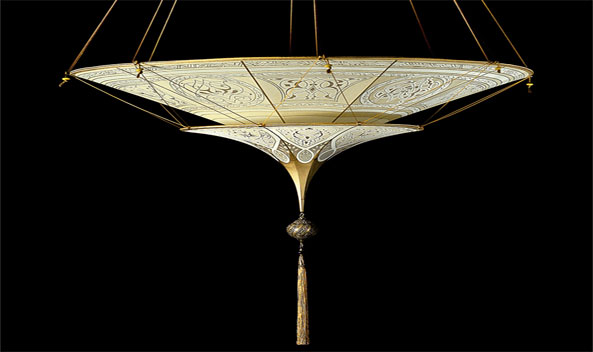 Lino Lando has been fascinated with Fortuny all his life. He spent years studying his paintings, lighting and textiles at the Fortuny family Palazzo Pesaro degli Orfei. Lando began production of the silk lamps via his company Venetia Studium in 1984 and in 1987 obtained the Fortuny® trademark. The lamps are produced in Venice by hand to an exacting standard, despite the challenges of acqua alta being such that shipments and deliveries are often unavoidably detained. The silk is dyed and then sewn by hand onto metal structures. Each lamp is then painted in patterns reminiscent of Greek, Roman and Oriental motifs using the lyrical curves found in illuminated medieval manuscripts.
The paint is a fusion of gold and silver producing a color of glittering warmth. Each lamp is dressed with a fringed exclamation point — a silk tassel bound by a Murano glass bead. Silk is a natural diffuser of light, so the lamps glow hauntingly like those in the Piazza San Marco on a foggy evening. The lamps are only finished when the artisans can attach the suspension cords to the exact height of each installation. In 2000, Lando developed a glass version of the Fortuny® lamp that could also be used in rooms with ambient moisture. The challenge was to produce glass lamps that would emit the same ethereal glow as silk.
To the untrained eye the two versions are identical. Lando's fanatical devotion to craftsmanship is identical to that of Mariano Fortuny. If you are the electrician hanging an immense six foot diameter Scheherazade lamp, you will find five lion heads greeting you at the five fastening points along the decorative metal rim. They will be invisible to everyone admiring the lamp but you. From above, they stand a silent and invisible guard.
Mariano Fortuny was often called "The Magician", his mind soared with invention. Between 1901 and 1933 he took out twenty-two patents. As a painter, he exhibited at every Venice Biennale from 1924 to 1942, but whether it was his painting, his exploration of the alchemy of pigments or the decoration and manipulation of fabric, his core fascination was always light — how it played on surfaces, how it shifted on planes, how it could be controlled and projected. He developed a dome, a quarter sphere of light that was used for stage lighting.
The version in the Venetia Studium Collection is a revelation of diffusion, using precious and industrial metals anchored in a golden Venetian halo. The Fortuny® Studio 1907 collection consists of three models in stainless steel with aluminum shades and halogen bulbs. It took Lando two years to create the mold for the shade. His goal was effectively to keep the original Fortuny proportions while increasing the functionality of the lamp. The tripod version has removable casters, the light is indirect and diffused, and the shade can tilt and swivel at 360º. The gold interior of the dome is operatic in its splendor and could illuminate any production of Tristan und Isolde you cared to stage.
Lino Lando, now with his two sons Luca and Matteo, is dedicated to preserving and celebrating the work of the legendary Mariano Fortuny. It was Venice that inspired Fortuny and it is Venice where Lino Lando continues his legacy.