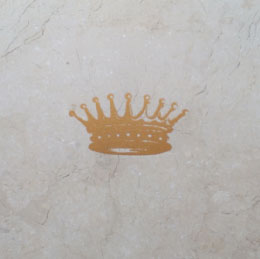 (Sausalito, California)……..c l é introduces metallic tiles in porcelain, ceramic and limestone that have been painted, glazed, and printed with the glimmer of silver, gold, iron, platinum, and copper. Each artist has interpreted the glory of metal in their own way from the manipulation of intense heat to delicate brush strokes. In Italy, Adriano Ricchetti at Il Monile has devised a way to turn gold voluptuous, using his technical virtuosity to fuse ceramic with glaze until the two become one. Along with gold, the Byzantina rectangular series includes iron, platinum, and silver.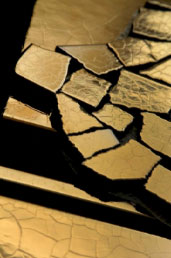 Brenda Bates creates her Welbeck tile in her potter's studio in Cornwall, England. Fascinated by aquatic life in the Celtic Sea, Bates has created the Coast Collection, immortalizing sea stars in hand made tile, delicately painted in 24k gold and platinum. Her Platinum Collection is a study in abstraction, using metallics to define irregular shapes.The weight of the precious metals against the delicate translucent glaze causes the random crackled surface.
The c l é Classic Tile Collection has taken the traditional material of porcelain and rendered it modern with faux metal finishes of oxidized steel, iron and copper. The Metallic Porcelain series allows for installation of a tile where weight or temperature would be problematic for metal. The tile slabs are 13″ x 40″ and can be installed on floors and walls, indoors and out.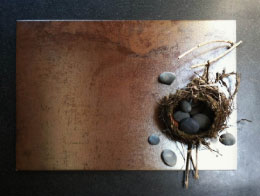 Dutch artist Hanneke Steenmetz silk screens her Shakespeare inspired graphics onto limestone tile for her Studio H. Although all of her images are available in gold, silver and copper, how is it that a crown could be anything but gold?
c l é founder and creative director Deborah Osburn searches the world for remarkable hand crafted tile. She says "Metallic functions as the perfect counterpoint to warm surfaces. It reflects light adding sparkle and allure. There are as many qualities to the shimmer of gold as there are artists producing the color, and we're proud to offer the most tantalizing." The tiles on c l é are as distinct as the artists who create them. It is Osburn's goal to provide a forum for discovery and conversation about what she loves most, tiles created by impassioned artists creating remarkable surfaces.
www.cletile.com
(415) 887-9011
#####
[Press Release]