Clé is featured in Vogue: Editors included the company's tile in a piece titled Summer Punch, noting how "South African artist Ruan Hoffman's background as a painter comes through in his latest collection for clé, the preferred house for artisanal tiles. Certain to brighten any interior, the 25 hand-lithographed geometric designs in the series, Postcards from Myself, come in vivid shades of blue, red, and black. While some tiles bear a resemblance to Matisse's gouaches, others offer a whimsical interpretation of traditional Turkish Iznik pottery motifs.
"Above all, Hoffman found himself inspired by the uncertain nature of firing:
I don't know what will happen in the end.
The piece was written by MIEKE TEN HAVE.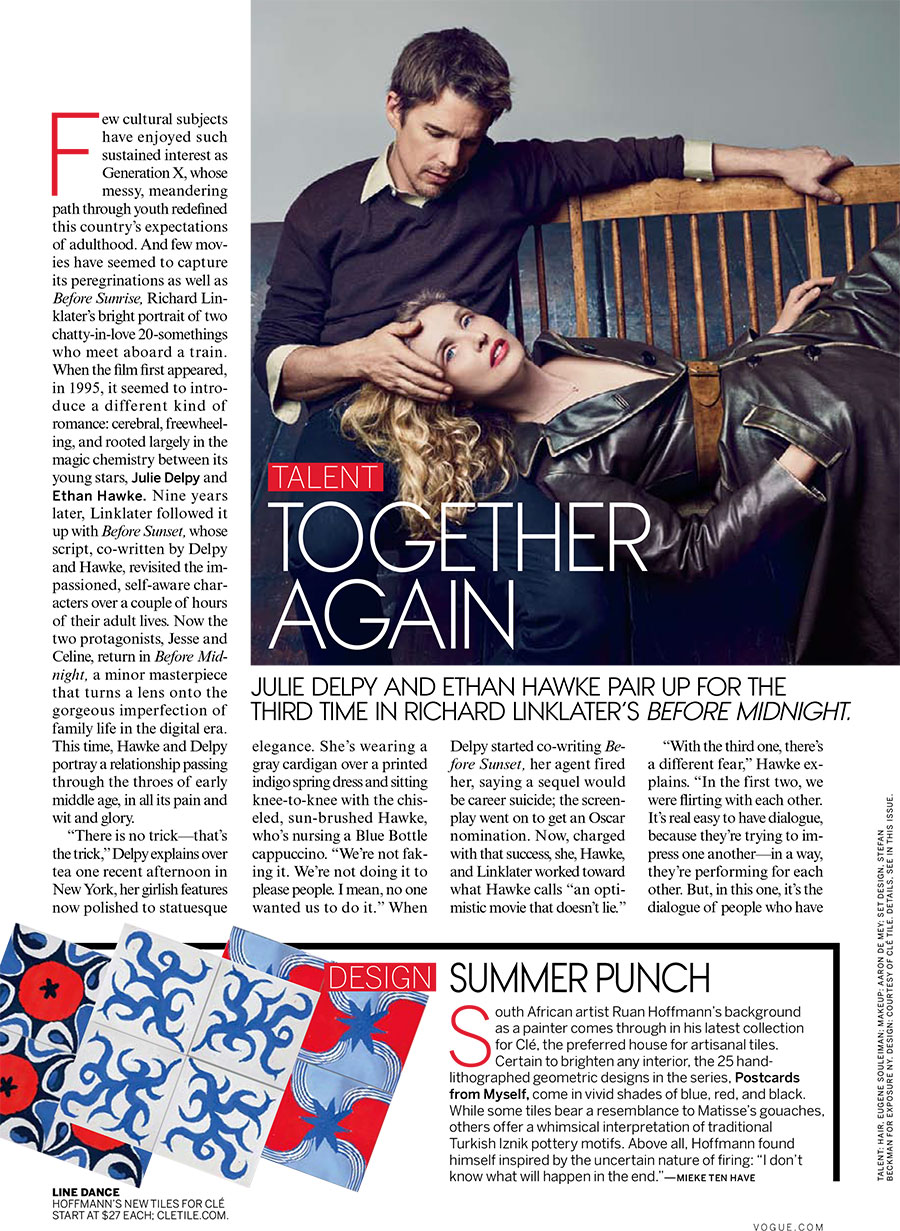 Postcards From Myself consists of 25 designs, each hand lithographed on an 8″ square encaustic cement tile. Hoffmann is an internationally exhibited painter who uses ceramic as his canvas. This is his second tile collection for clé, though first in the historic tradition of using multiples of four tiles to complete each pattern.  The collection was inspired by Hoffmann's travels around the world. Hoffmann started the design process by painting 6″ x 6″ postcards, each representing a memory from his travels.
I live in Paris half the year, and spend several months traveling. These designs represent my connections to the oceans where I have swum, ancient cities I have explored, the shadows and exuberance of animals and plants.
Each cement tile is compressed, cured and then hand lithographed in a process that replicates Hoffmann's original brushstrokes.
Deborah Osburn, founder and creative director of clé, explains how the tiles are made,
We start with the encaustic process of compressing and curing a cement tile in a mold and then we use lithography to essentially capture the spirit of Ruan's hand. Lithography allows for a precise rendering of  a pattern, and so the finished tile looks hand painted. The process for this collection is a centuries old technique coupled with modern technology.