New Ravenna mosaics by Erin Adams is featured in this roundup in New York Spaces dubbed "Statements"; a look at Design for renovation & summer living. It includes CUT GLASS "Coral," a hand-cut glass mosaic (in Rose Quartz, Sardonyx, and Agate) from the Erin Adams collection for New Ravenna Mosaics. The colorful piece was produced by Nicole Haddad.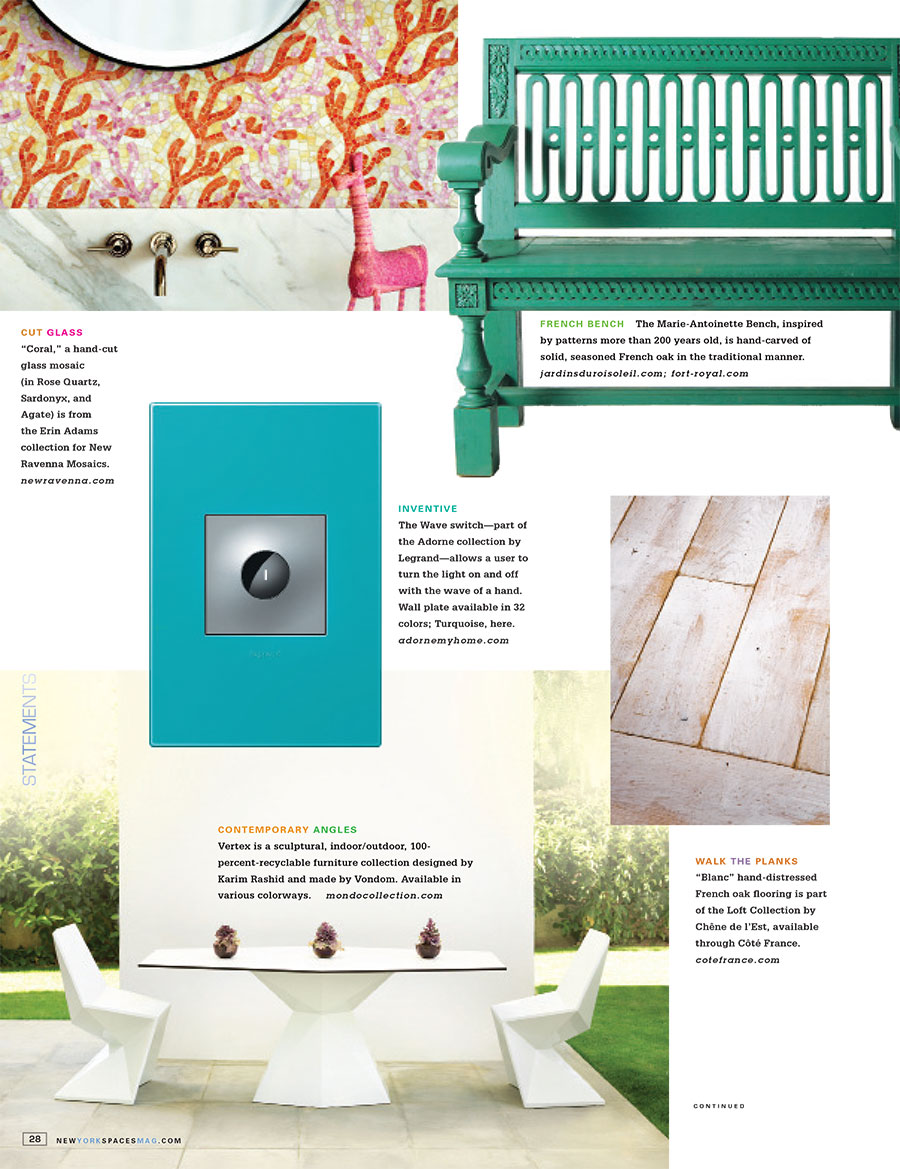 Erin Adams is one of today's foremost tile designers, with a career that spans almost twenty-five years. In her work as both artisan and interior designer, Erin infuses sophisticated urban sensibilities with elements of the folk art tradition that surrounded her as a child. Raised in San Antonio, Texas, Erin studied at New York's Pratt School of Art & Design. Her mother, artist Caroline Lee, opened San Antonio's first folk-art/contemporary gallery, Objects, in 1972. As teenagers, Erin and her sister spent a great deal of time with their mother in Oaxaca, Mexico, meeting such prominent folk artisans as Josephina Aguilar and Manual Jimenez. The work of Erin Adams is sought after by designers worldwide and is used in residential as well as prominent commercial applications, including the Tokyo Hilton, Saks Fifth Avenue in Saudi Arabia, the Four Seasons Hotel in the Bay area, P.F. Chang's Restaurants, Neiman-Marcus in Dallas, and The Wynn Encore.   Erin's new collection for New Ravenna Mosaics consists of twelve designs in both natural stone and jewel glass. Each mosaic is crafted by hand in Virginia. The collection in stone can be installed on floors and walls indoors and out.
The jewel glass mosaics are suitable for interior vertical installations. New Ravenna Mosaics are available at tile showrooms throughout the United States, Canada, Europe, and Dubai. New Ravenna Mosaics is America's premier designer and manufacturer of stone and glass mosaic tiles for both residential and commercial installations. The company's products are handcrafted mosaics, made in Virginia, that are fashioned into decorative borders, murals, fields and medallions. Tile is cut and can be tumbled, honed, or treated to create distinctive styles, subtle shade variations, and textures. The end products are custom works of art in mosaic tile, which often incorporate the designs of architects, interior designers and their clients.