New Ravenna's Fleur de Lys pattern, in the manufacturer's Jardins Français tile collection, is featured in the October 2017 issue of Connecticut Cottages & Gardens. The product feature, dubbed "Out of the Box," notes that the collection was designed by Caroline Beaupère. "The stone mosaic is comprised of polished Thassos, polished Carrara and shell," the editors explain, adding the design was modeled after the patterning and symmetry of French gardens. The full article is filled with great products.
The different mosaic patterns in this tile collection are handcrafted in Virginia from combinations of natural stone, brass, aluminum, glass, and shell. Besides Fleur de Lys, other patterns in the collection include Jardin de Giverny, Jardin de Tuileries, Jardin de Villandry and Jardin de Versailles.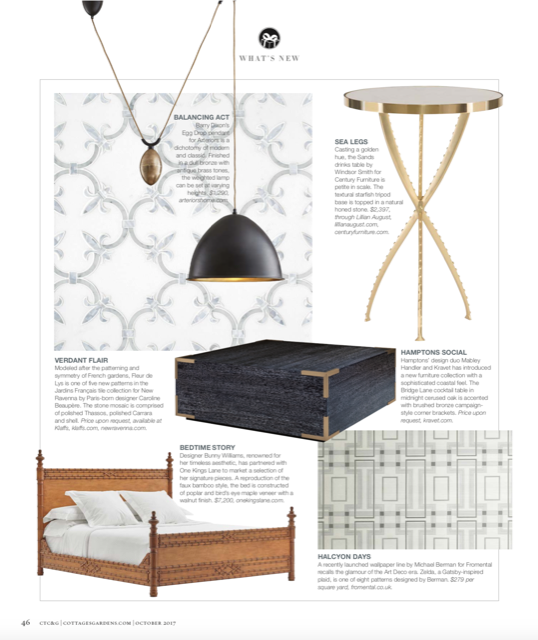 The Jardins Français collection was inspired by the formal gardens of France, from their ornate ironwork to their intricate symmetry. The variety of materials represent the four seasons, and the subtle shifts of Mediterranean light. Winter is represented by a brisk tonal white and grey in Jardin de Villandry; Spring is enlivened by luminescent shell used in Fleur de Lys; vivid summer light glows in a Monet blue glass in Jardin de Giverny; and it is the brass in Jardin de Versailles that emulates the golden hues of Fall.

Caroline Beaupere, a New York and Connecticut based interior designer says of Jardins Français, "I grew up in Provence and spent my childhood visiting Morocco, Spain, and Italy. I was greatly inspired by Gaudi's work in Barcelona. The theme of this mosaic collection comes from my favorite gardens in France. I've replicated pathways leading to fountains and iron grill work using the unlimited creativity of mosaic available at New Ravenna."

Each pattern can be fully customized with the client's material preferences to fit the scope of any commercial or residential project. Every mosaic in the Jardins Français collection can be installed indoors or out, on floors or walls. The collection is available at New Ravenna showrooms throughout the United States, Canada, Europe, Russia, and Dubai.