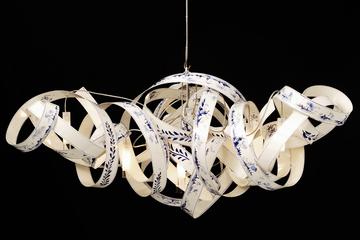 Mt. Vernon, New York……..Dutch designer Jacco Maris has collaborated with artists Frank De Wit and Ben Quaedvl to create a Delft version of his stainless steel Montone chandelier. The artists hand paint traditional Delft patterns on the strips of metal which have been powdercoated in white. The entire light is created by hand in the Jacco Maris studio located in Breda, the Netherlands. The Montone chandelier is available in oval, round and triangular shapes. It is the triangular shape that inspired the name Montone, which is Italian for ram.
While experimenting with the finishes on the metal strips, the idea of painting came to Maris. "With a white powdercoating the strips start to resemble ceramic. Everyone here in the Netherlands remembers their very first sip of coffee from our grandmother's Delftware cup, it is ingrained as one of our earliest childhood memories. We wanted to create the paradox of an entirely modern fixture, painted with a poignant design, one which we all carry around in our hearts." In addition to stainless steel and hand painted Delft blue the LED fixture comes in high gloss stainless steel, high gloss black, white, and brass.
Larry Lazin, President of Global Lighting which distributes Jacco Maris lighting in North America appreciates the duality of the Delft version. "Adding a historical context to a contemporary fixture creates an unabashedly romantic story. Just as Delft became a rage in the 17th century it is now experiencing a tremendous revival in fashion, textiles and design. By looking to his culture for inspiration Maris is continuing to create new works that are rooted in the rich traditions of the past."
Global Lighting is a New York-based source for aesthetically superior artisanal and architectural light fixtures for residential, hospitality, retail, commercial, and healthcare environments, as well as landscape applications. Founded in 1991, by Larry Lazin, Global Lighting has a storied history as a manufacturer and distributor of lighting collections cultivated from some of the world's finest manufacturers of contemporary lighting located in Europe. By bringing these fixtures into UL compliance and offering them to the design/architectural trades through lighting reps and to the retail trade through showrooms, Global Lighting is a company devoted to the highest possible quality in terms of products and customer satisfaction.
#####
[Press Release]