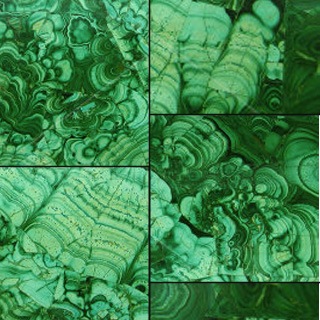 The color green is often considered a harbinger of spring and renewal. It is in abundance in this new collection. Victoria Redshaw, managing director of Scarlet Opus, the British trend forecasting agency, offers her distinctive opinion. "Absinthe Emerald is the perfect shade of green for 2013. The color summons up a secretive mood and a dark, languid atmosphere. There is a slightly risqué undertone which draws us into the seductive darkness to reveal opulence and charm in equal measure. This shade of green offers an escape."
From the radiant, jeweled tones of Peridot, Jade, Malachite, and Emerald, to the lush waves of the Adriatic, here are the newest interpretations of green tile offered by New Ravenna Mosaics and c l é. Enjoy responsibly.
Sara Baldwin, founder and creative director of New Ravenna Mosaics acknowledges, "There are so many varying shades of green, they are completely adaptable to their environment just like a chameleon. A traditional Scottish gingham mosaic with complimentary hues of green can be fresh or whimsical. Margot, our new leaf pattern is exotic and tropical or serenely classical, depending on if the space is lush or refined."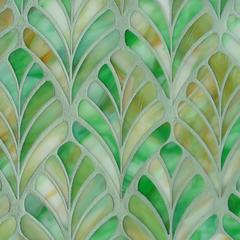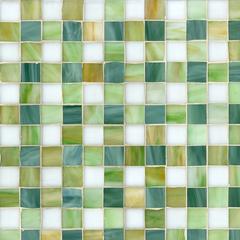 Malachite is one of the oldest shades of green, the mineral based pigment was found in Egyptian tomb paintings from the Fourth dynasty. The Malachite stone tile from Tilevera for c l é (either hand painted or lithographed) reproduces this aristocratic green favored by royalty. Deborah Osburn, founder and creative director of c l é, the international artisan tile resource, prefers the deeper shades of green. "Green can supply the drama for interiors, a darker hue provides a complex and luxurious focal point."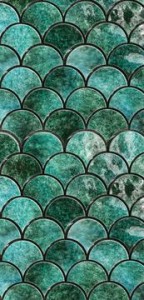 Il Monile, the artisan studio in Italy has looked to the Adriatic to create their glaze for the new Byzantina Shapes collection. The ceramic mosaics are hand formed and glazed individually with the saturated colors of the Venetian lagoon. The variegated shades of green resemble light reflected on the ocean waves, expressing nature's abundance.
New Ravenna Mosaics are available at tile showrooms throughout the United States, Canada, Europe, and Dubai. newravenna.com (757) 442-3379.
The c l é collection of artisan tiles is available at cletile.com, (415) 887-9011.
#####
[Press Release]