The clé Hedron Hex tile, one of the company's cement tiles, is featured in the July/August issue of LUXE magazine, in the publication's Market Trends section. Dubbed "Foreign Fare" by Brittany S. Chevalier who wrote and produced the piece, the section is billed as "The summer's hottest products transport us abroad to four stylish international eateries worth the overseas trip."
Hedron Hex in Luxe Market Trends
The Hedron Hex pattern stands out within the "À La Française" theme that reflects the style of the restaurant at Hotel Panache in Paris, France. Chevalier notes of her inspiration for choosing it: "Located in the lively opera district of the city's 9th arrondissement, this Art Nouveau-inspired bistro is emblematic of the neighborhood's storied past and innate creative energy. In uenced by the triangular shape of the building, Parisian designer Dorothee Meilichzon, of Chzon, fostered continuity throughout with geometric details like round light  xtures and striped and hexagonal patterns, along with bright pops of color, all while maintaining the restaurant's classical French integrity—as seen in the pieces shown here."
View Full PDF of the placement.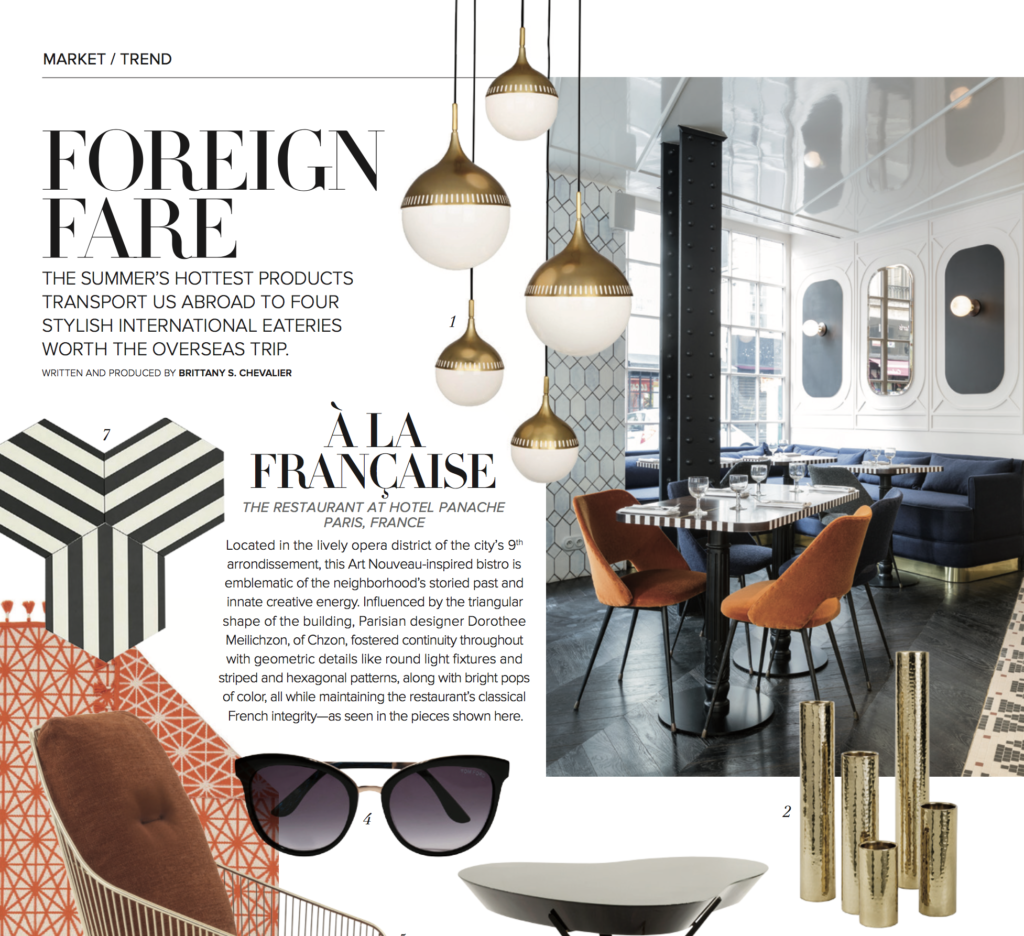 About the Hedron Hex Pattern of Tile
A description of the pattern from the clé site:
here is our modern take on a historic tile that, over the past 150 years, has been referred to by dozens of names including encaustic cement tiles, cement tiles, concrete tiles, hydraulicos, cuban tiles, and so on. these alluring tiles have stood the test of time and have echoed their beauty across many continents.
clé creates one of the finest cement tiles in the world, and this quality still permeates a surface which is muted, varied, matte and silky. cement tile patterns and shapes are already impossible to refuse, but it's the variegated colors that make them one of today's most sought after tiles for, both, walls and floors, as well as, indoors and out.