Origins tiles from Forrest Lesch-Middelton for clé are featured on "The V List" in Veranda, which editors dub a "distillation of fine new products that are both pretty and practical—and oh-so-Veranda." The tiles are scattered artfully under the caption "Arabesque motifs" and editors deem them "rendered gorgeously in classic blue and white. See below or view the full PDF to see how the pert tones in the tiles stand out in the mix. See the entire collection on clé.
Origins Tiles in Veranda
"Forrest's Origins collection has become a tile classic in this new era of tile renaissance," remarks Deborah Osborn, founder and creative director of clé. "His use of Delft Blue is his premier introduction of color to his signature retelling of ancient patterns from around the world distressed and scorched by his artistic and expert firing techniques."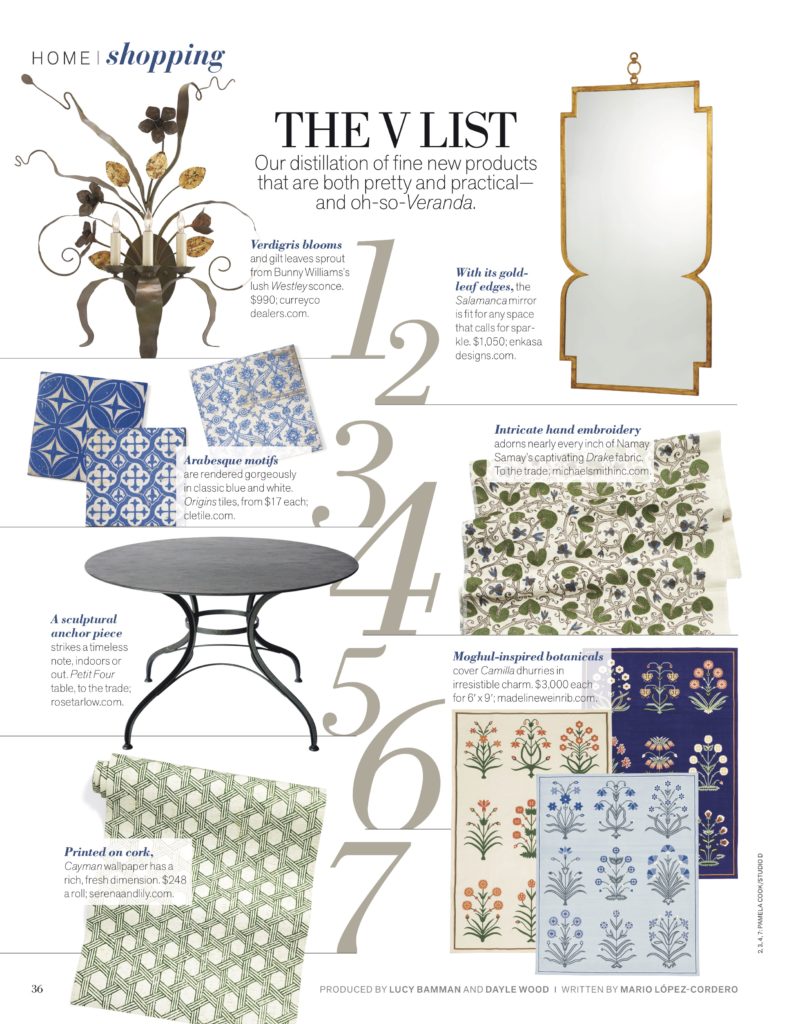 This new series of ceramic tiles are influenced by the sacred geometry and arabesque designs found in the Middle East, North Africa and Europe. Each tile is hand made individually, and can be installed indoors and out on floors and walls.
The color Delft Blue was originally inspired by 14th century Chinese porcelain that traveled to Europe across the Silk Road inspiring Europeans to begin their own ceramic production. Nearly every culture has made a form of Delft Blue using white glaze and metal oxides. The seven new tile designs are available in 6 inch squares. Origins in Delft Blue is available exclusively on clé. Deborah Osburn started the international artisan tile e-boutique in 2012. The tiles on clé are as distinct as the artists who create them. It is Osburn's goal to provide a forum for discovery and conversation about what she loves most, tiles created by impassioned artists creating remarkable surfaces.
"Forrest's works are complex in their creation, though they still illustrate the intrinsic beauty found in the everyday ceramic object," Osburn adds. "His use of a variety of historic patterns create a common language to take the user beyond utility, and hint at the deeper beauty of unfamiliar places. primarily a maker of pots and vessels, forrest has allowed clé to coax him into the world of tiles, unearthing his creations of tone-on-tone whites and browns. at a quick glance, his tiles could be described as a present-day archaeological find, each, a soulful 'shard' intimately decorated."