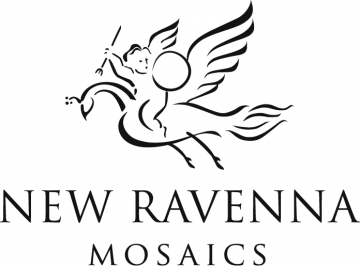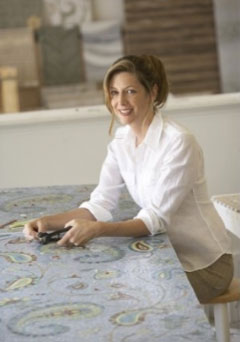 (Exmore,Virginia)……..Introducing Jacqueline, a hand crafted mosaic tile in jewel glass designed by Sara Baldwin for New Ravenna, in bloom. Blooming in three different colorways, White, Blue and Green, the individual semi precious colors are a rainbow of verdant gems for all vertical applications.
Jacqueline in White is a delicate field of citrine, amazonite and moonstone jewel glass. In Blue, Jacqueline becomes a lush meadow of alexandrite, citrine, peridot and olivine blossoms. When Jacqueline wears Green her leaves and flowers are deeply forested in ruby, sardonyx, olivine and malachite.
Each precise piece of glass is cut by waterjet and assembled by hand in Exmore, Virginia. Jacqueline is also available in Thassos marble for floors and walls, demonstrating that spring can indeed bloom eternal. New Ravenna mosaics are available in tile showrooms throughout the United States and Canada.
New Ravenna is America's premier designer and manufacturer of stone and glass mosaic tiles for both residential and commercial installations. The company's products are handcrafted mosaics, made in Virginia, that are fashioned into decorative borders, murals, fields and medallions. Tile is cut and can be tumbled, honed, or treated to create distinctive styles, subtle shade variations, and textures. The end products are custom works of art in mosaic tile, which often incorporate the designs of architects, interior designers and their clients.
New Ravenna mosaics are sold through nearly 200 exclusive designer showrooms across the country and internationally. The company provides design services along with on-site supervision of installations. New Ravenna mosaics are found in homes, restaurants, hotels, casinos and businesses around the world.
Read more about Jacqueline on Sara's Blog.
#####
[Press Release]
A bit more about Sara:
Sara Baldwin grew up on Virginia's rustic Eastern Shore, on her family's farm. "We were surrounded by nature, and all the inspiration that nature creates, from childhood, and we were encouraged to express ourselves artistically, using whatever we could find in our environment. It was an idyllic upbringing, certainly for an artist. We had to be both respectful of, and resourceful with, our surroundings, and these principles have guided me throughout my years as a designer and a businessperson. I feel very lucky to have roots and to live in a place where beauty and inspiration seem inexhaustible."