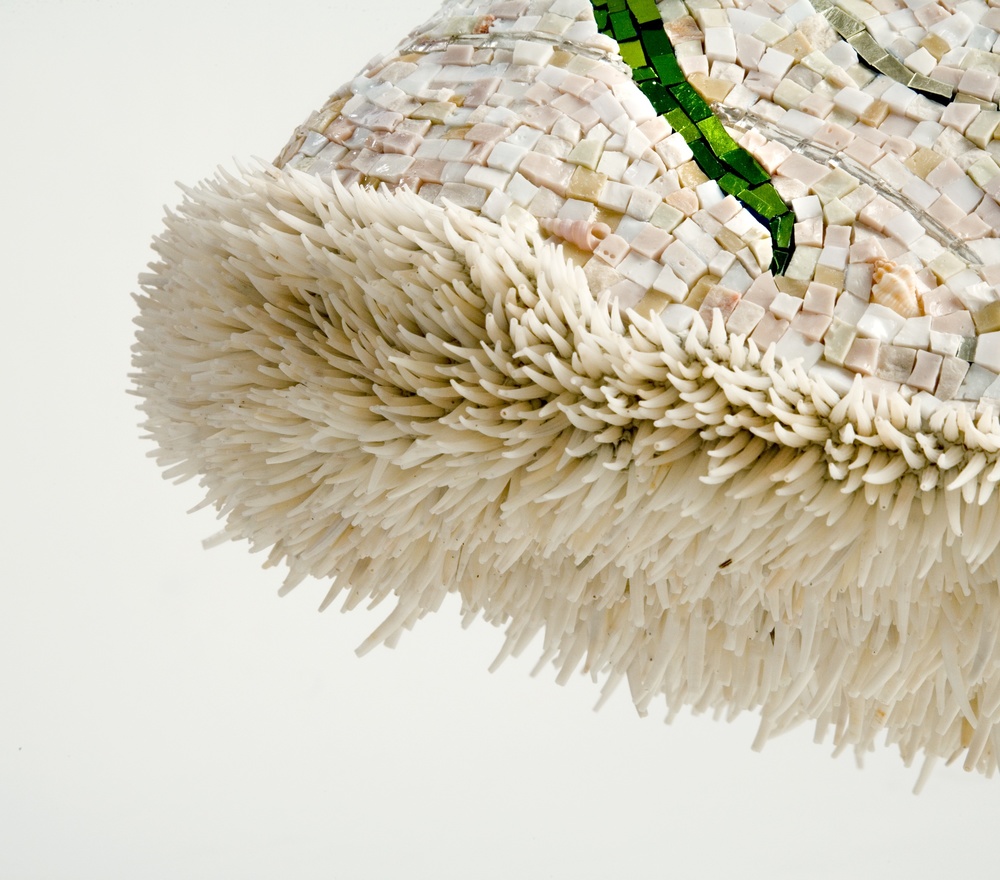 Austin, TX……..Texas artist Julie Richey has received Best 3-D Mosaic honors from the 2011 Mosaic Arts International, an annual international juried exhibition of contemporary mosaic art. Richey's figurative dress sculpture in marble, glass smalti and seashells is entitled La Corrente (The Current).
"La Corrente is about beauty amidst destruc­tion," says Richey. "It was created during the Gulf oil spill and it alludes to the many destructive forces, both man-made and natural, that creep in with the current." Richey describes her work as "utilizing the innate opulence of mosaic materials — 24k gold smalti, marble, semi-precious stones, iridescent glass and minerals &emdash; to embellish sculptural forms in unexpected ways." Her work can be viewed at www.juliericheymosaics.com.
Three jurors from the US and Australia selected Richey's work from among more than 300 international entries. Juror JeanAnn Dabb, Professor of Art History, University of Mary Washington commented on Richey's work. "One is struck by unexpected juxtapositions in Julie Richey's three-dimensional works. La Corrente is an elegant sculpture expertly executed in traditionally durable mosaic materials with imagery that comments on the fragile ecosystem of the Gulf of Mexico. Richey's recent sculptures have clothing or dress forms as shared structures and the environments referenced in their individual subjects range from the rural to the urban, all linked by the actions of humans and the forces of nature."
Nancie Mills Pipgras, Editor in Chief of the publication Mosaic Art Now, remarks, "In La Corrente, Richey has succeeded in making hard materials — stone, glass, and shell — appear to float and fold with the gentle grace that only wind and water can bestow. We are reminded that all in nature is fragile."
Richey has worked in the mosaic medium for more than 20 years, creating custom residential and commercial mosaics. She has earned international recognition for several recent projects, including the 2009 Orsoni Prize for Night Shirt, a wall relief mosaic depicting San Francisco Bay at midnight. In October 2011 Richey will be leading a Mosaic Masterpiece Tour to Rome and the Vatican Micromosaic Workshop, Niki de Saint Phalle's Tarot Garden in Tuscany and the International Mosaic Festival in Ravenna.
The Society of American Mosaic Artists and the Emma S. Barrientos Mexican American Cultural Center in Austin, Texas are presenting the Mosaic Arts International through March 30, 2011. The Emma S. Barrientos Mexican American Cultural Center is located at 600 River Street.   (512) 974-3770
#####
Photo Credit: Photo of Julie Richey by Pete Lacker.
[Press Release]
We have many references to mosaic here on Bella Figura Communications if you'd like to see many remarkable works of art.