"Surf's up with the marine-inspired Watermark collection, which adds new hues by avid wave rider Luca Osburn," writes the editors of Interior Design magazine's Spring Market Tabloid about the new clé Tides series of tiles. "Named for the natural phenomenon Osburn encounters when paddling out into his favorite Northern California lineups, the Tides series draws color inspiration from diverse coastal sources…" View the full PDF to see what these buoyant coastal sources are.
Interior Design Features Tides from clé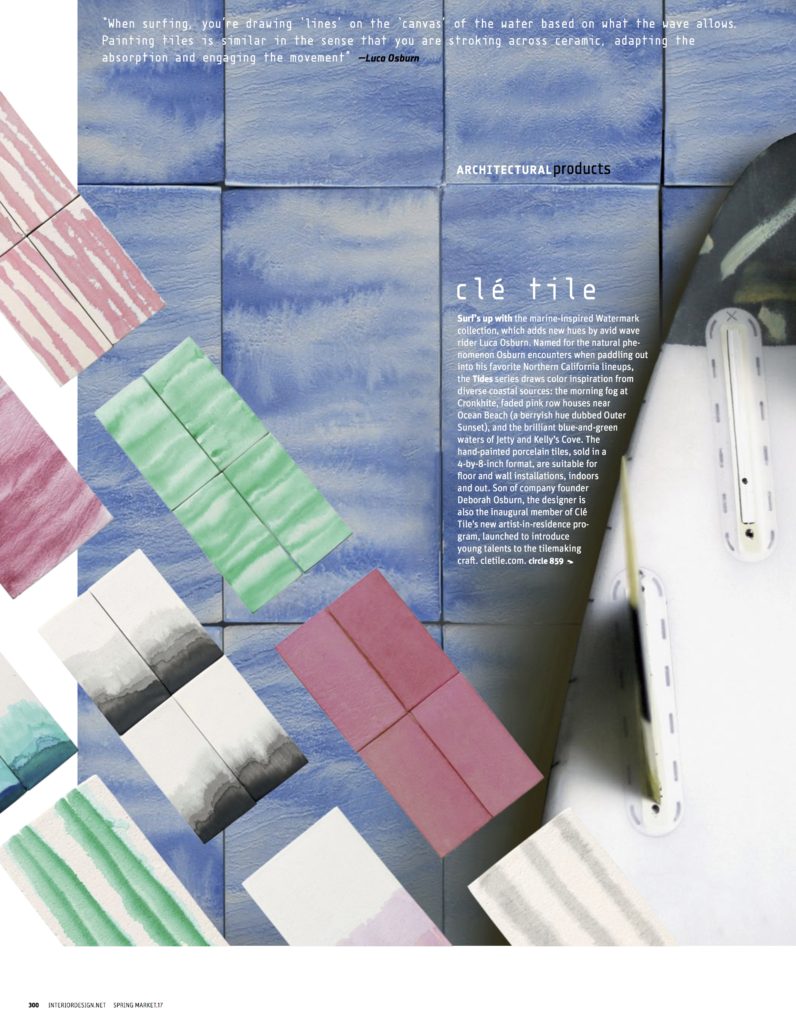 Watermark is collection of hand crafted porcelain tile. Designed by Luca Osburn, an avid surfer, Tides adds four new colors, which reflect Osburn's favorite surfing locations in northern California waters. Ranging from the fog-laded grey Cronkhite, to the brilliant sunlit ocean greens of Kelly's Coveand Jetty, each hue represents an environment where Osburn masters the waves. Outer Sunset, was influenced by the faded pink row houses that border San Francisco's Ocean Beach. Luca Osburn is the first "Artist in Residence" at clé. The program was started to introduce young adults to the artisan craft of tile making and teach them the skills necessary to design and produce their own work. Osburn was experimenting with the indigo pigments used in the Watermark collection and inspired by worn denim and the waves he rides, created the new tides finish. The tiles are 4? x 8? and are suitable for interior and exterior installations on both floors and walls. If you need help in how to design them in your home, you can turn to helpful websites such as https://collov.com/inspiration/kitchen and find the inspiration that you need.
"When you are riding a wave, you are taking the canvas of the surf and drawing your own lines based on what the wave is allowing you to do," Luca Osborn, Artist in Residence, of his Tides series. "Painting the tiles is similar in the sense that you are stroking across the tile, adapting the absorption, and engaging the movement of the process."