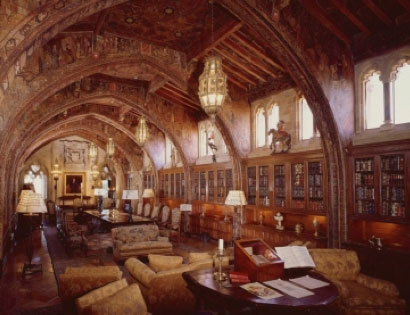 (Sausalito, California)……..In 1919 newspaper magnate William Randolph Hearst was tired of camping in tents on his 250,000 acres on the coast of central California and hired celebrated San Francisco architect Julia Morgan to "build a little something." For the next twenty eight years craftsmen labored to construct the elaborate Hearst Castle. The majestic estate is a reflection of Morgan's engineering prowess and integration of Spanish Colonial, Mission and Moorish Revival architectural styles with Hearst's extensive museum quality collections gathered on his trips to Europe. Tilevera was invited to create the Hearst Castle Collection of tile in stone, wood and glass reflecting the opulent materials chosen by Julia Morgan. Each tile is a distinct interpretation of Hearst Castle's spirit in material, color and design.
The Hearst Castle Collection includes a series of decorative stone tiles that are hand painted or carved, as well as, stone flooring that has been cut into six historic shapes. The color palette for the hand painted tiles is derived directly from Hearst Castle buildings and landscapes: Casa Grande, Casa del Monte, Doges Suite, Celestial Suite, Esplanade, and architectural sketches by Morgan. Designs range from ornate florals to classical Roman statuary. Pattern tile has Gothic and Moroccan influences. Carved stone tiles are both winsome and elegant. Frolicking animals (both real and imagined) and emblematic designs are illustrated on five and two inch deco tiles. Murals combine up to 20 different tiles to create a stand alone installation. The Mediterranean carved pattern tiles are inspired by Hearst's travels to Italy and Spain.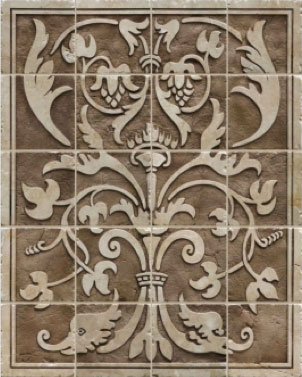 The glass collection is offered in smalti, 24k gold mosaics and mercury glass. The extravagant Roman pool at the Hearst Castle was patterned after the 5th century Mausoleum of Galla Placidia in Ravenna, Italy. The vibrant one inch square glass smalti from Italy that decorates the surfaces of the indoor pool are identical to the Roman Pool Glass Collection by Tilevera. Smalti is an opaque hand crafted glass available in eight singular and variegated color ways ways and an array of Byzantine mosaic motifs. The lustrous 24k gold mosaic glass specified by Morgan is also included in the Hearst Castle Collection. The mercury glass, surfaced with a vintage patina is available in both tile and panels. Small metal Regency style rosettes can be used to embellish the mirror corners.
Los Angeles decorative painter Jacqueline Moore was chosen by Tilevera to create the first Hearst Castle Master Series. Her resulting Hearst Celestial Series is created in her signature wood technique. Using baltic birch as her canvas, Moore hand paints between 12-20 layers of glazes, gold and silver leaf, oil paints, washes, and antiquing methods. The tiles are sealed with a durable protective coat, which enables interior and exterior installations. Moore's graceful line drawings and floral motifs were inspired by Morgan's delicate archival architectural drawings for the Celestial Suite.
A portion of the proceeds from the Hearst Castle Collection by Tilevera benefits Hearst Castle.
Tilevera, founded by Deborah Osburn in 2000, is a continuing evolution of artistic tiles created of stone, glass and wood. Beginning with a decades long mastery of hand painted tiles, Tilevera is considered a premier studio for hand painted tile in the form of "wallpaper", patterns, and pictorial motifs from traditional European details to modern designs. Tilevera has recently expanded their library to over 10,000 different designs and multiplied their availability by creating them in both lithography and mosaic. Osburn shares her discoveries in artisan tile, fashion, art, travel, and design on her blog Tile Envy.
#####
[Press Release]