Born in Gorizia, Italy, Cleto Munari describes himself as a globetrotter, collector, and inventor. Evidently, he's also a bookworm. What's he reading? See what's on his reading list in Designers & Books.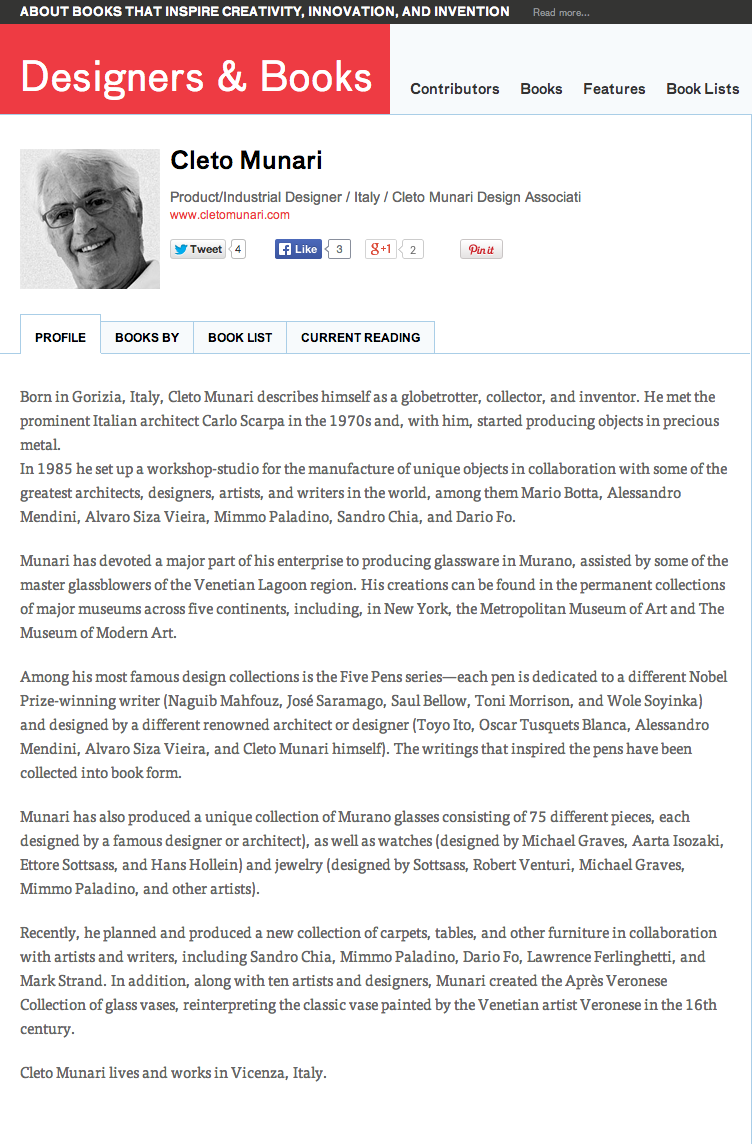 As his introductory says, "In thinking about some of my favorite books I cannot avoid dreaming about my own desires for adventure and imaginary worlds. Dumas and Salgari are part of those childhood fantasies whereas my early adulthood found me leaning toward the aristocratic world described by authors like Tomasi di Lampedusa. Other books on this list are associated with my friendships and interactions with fiction writers such as Mahfouz and Saramago, or poets met through a friend of mine who translates and works with poets, including Wole Soyinka, Mark Strand, and Manuel Alegre. Still other books are those that I enjoy rereading every now and then."
About "The Black Corsair" (Il corsaro nero), he says, "The sea voyage, the mystery, and the awe associated with the protagonist, Emilio—Lord of Ventimiglia, Valpenta, and Roccabruna—launched me, when I was a child, into a world of fantasy and mythical adventures. That was the period when I really started dreaming full-time."
"Blindness" by Jose Saramago is also on his list. About the book he begins, "In this novel Saramago imagines a near-total breakdown of society following an outbreak of mass blindness in which systems of law and order, social services, government, and schools no longer function. Families have been separated and roving bands of people squat in abandoned buildings. Violence, disease, and despair threaten to overwhelm humans' ability to cope. They attempt to create homes and establish a new order. We all hope that blindness disappears from our society."
Demons by Fyodor Dostoyevsky is also a fascinating read for him: "Demons combines two separate novels that Dostoyevsky was working on. One was a commentary on the real-life murder in 1869 by the socialist revolutionary group "People's Vengeance" of one of its own members (Ivan Ivanovich Ivanov). The other novel eventually merged into Demons was originally a religious work. Through Dostoyevsky's imagination I'm able to plunge into a totally new atmosphere to take a stand against any form of dictatorship that threatens personal freedom. My wife has written a book on this incomparable writer and I am particularly grateful to her for helping me get into some of his memorable characters."
It is truly worth stopping by Designers & Books for a read.