New Ravenna Mosaics Look Book Fall 2013
(Exmore, Virginia)…….New Ravenna Mosaics is proud to present their Fall 2013 Look Book, a visual gallery of brilliant reflective mosaics in jewel glass and natural stone. The luxurious mosaics are all created in the New Ravenna Mosaics studio located in Exmore, Virginia. A team of 120 artisans and designers create each mosaic by hand one tessera (piece) at a time. New Ravenna Mosaics was started 21 years ago by Sara Baldwin on her kitchen table.
While studying for her MFA in painting, Baldwin visited the Metropolitan Museum of Art in New York and fell in love with an ancient Roman mosaic pavement from the third century. Baldwin became fascinated with the historic art of mosaics and taught herself the traditional techniques used for centuries.
"Our Fall Look Book is a celebration of everything we offer at New Ravenna", says Baldwin. " It shows our collaborations with designers, our work with luxurious bronze and gold accents, mosaic patterns that are both lyrical and geometric, and our ability to customize any motif in stone or glass, even a fierce tiger!"   The mosaics are either hand cut in the Italian classic tradition of opus tessellatum or created with a water jet in opus sectile. There are also designs in opus vermiculatum (water jet shapes outlined in hand cut pieces).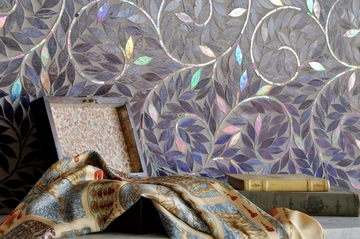 Each mosaic is available to be made to measure for an individual installation according to the specifications of the designer or architect. Often, a design is interpreted into a custom color palette and various materials, like mother of pearl, bronze and gold glass are combined with marble.
The American hand made walls, floors, backsplashes, pools, and table tops from New Ravenna Mosaics are available world wide, through over 200 designer showrooms in North America and representation in Europe, Dubai and Russia.
www.newravenna.com (757) 442-3379
####
[Press Release]