Clé tiles have been featured in this lively roundup in Architectural Digest Russia. The collection featured is Ruan Hoffman's Postcards From Myself.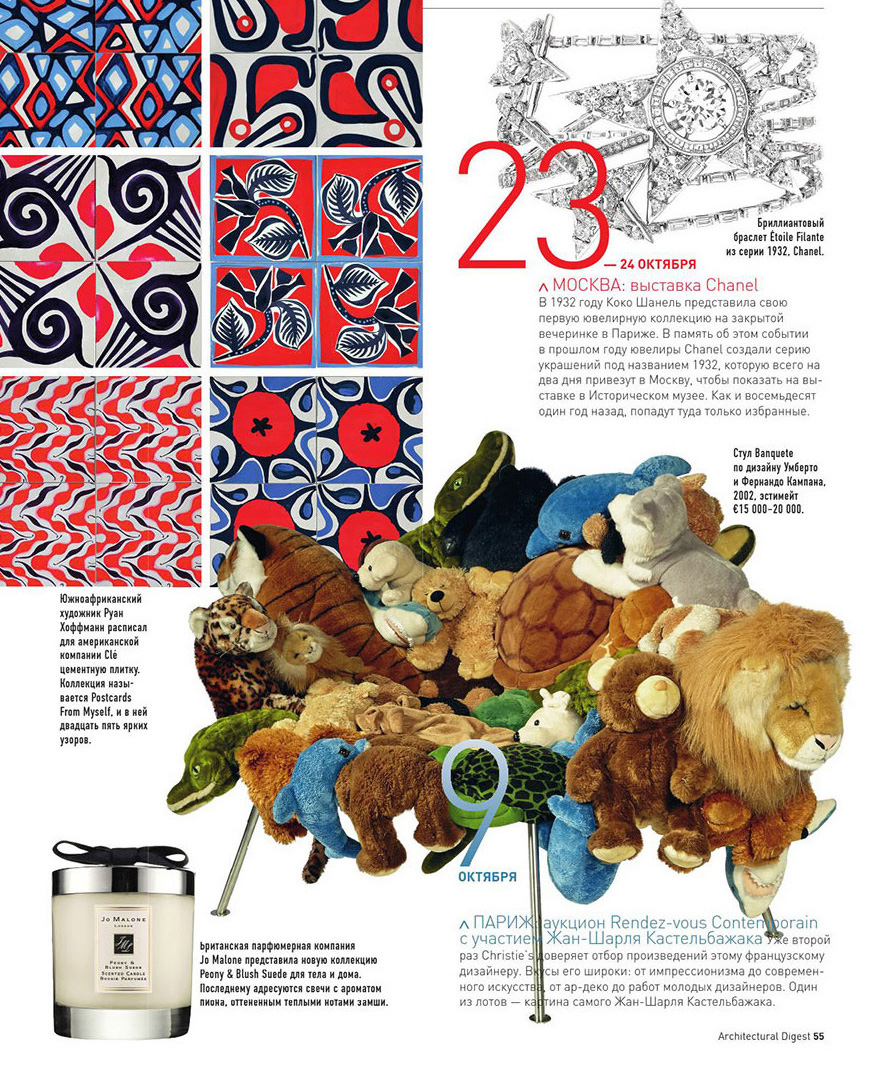 Postcards From Myself consists of 25 designs, each hand lithographed on an 8″ square encaustic cement tile. Hoffmann is an internationally exhibited painter who uses ceramic as his canvas. This is his second tile collection for clé, though first in the historic tradition of using multiples of four tiles to complete each pattern.  The collection was inspired by Hoffmann's travels around the world. Hoffmann started the design process by painting 6″ x 6″ postcards, each representing a memory from his travels.
I live in Paris half the year, and spend several months traveling. These designs represent my connections to the oceans where I have swum, ancient cities I have explored, the shadows and exuberance of animals and plants.
Each cement tile is compressed, cured and then hand lithographed in a process that replicates Hoffmann's original brushstrokes.
Deborah Osburn, founder and creative director of clé, explains how the tiles are made,
We start with the encaustic process of compressing and curing a cement tile in a mold and then we use lithography to essentially capture the spirit of Ruan's hand. Lithography allows for a precise rendering of  a pattern, and so the finished tile looks hand painted. The process for this collection is a centuries old technique coupled with modern technology.
A number of top shelter publications, such as Architectural Digest Russia, have tapped this collection to be featured in new product introductions, a sign that the company's tiles have a very broad audience, even internationally. The fact that the playful "Postcards from Myself" collection has been featured with one of the Campana Brothers' iconic stuffed toy chairs gives us great satisfaction at Bella Figura Communications, clé's agency of record.