Tiles from the Reconstruction Studies collection designed by sculptor John Whitmarsh for Clé are featured in Architectural Record, the publication noting his cast tiles are inspired by salvaged materials. "It's All in the Details" declares Julie Taraska, who wrote the piece.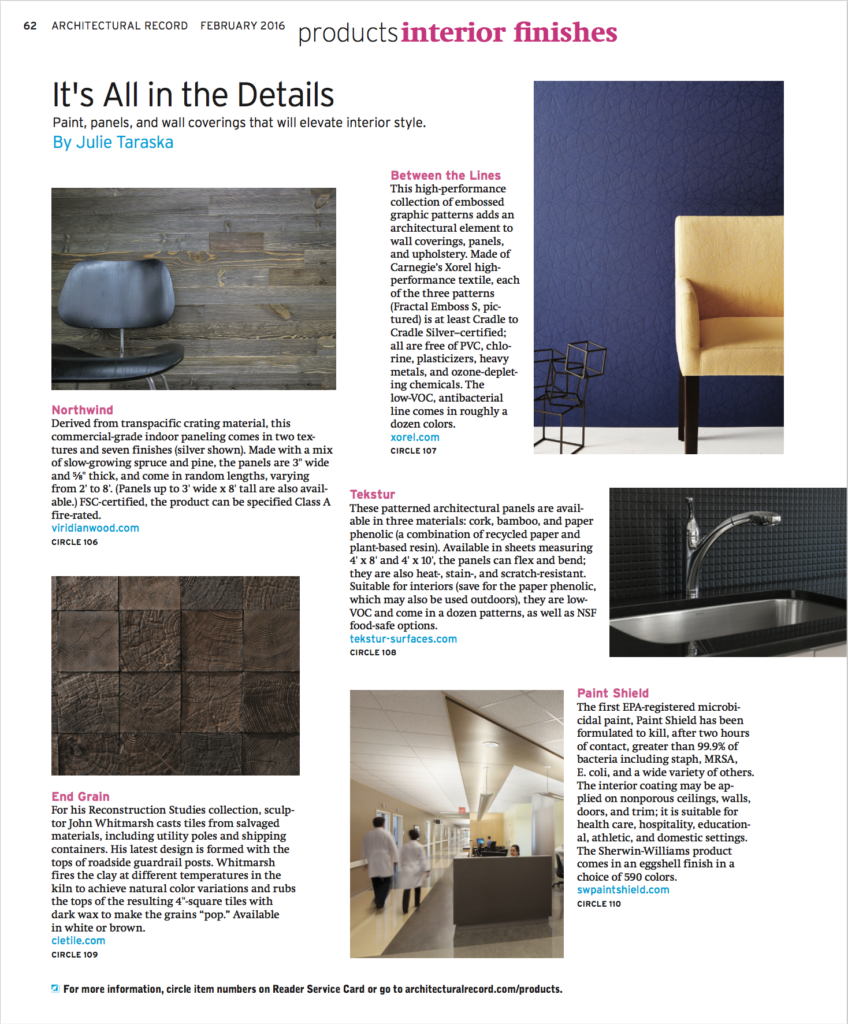 The tiles are made by San Francisco sculptor John Whitmarsh. Included in the Reconstruction Studies are Board Form and Weathered Steel mosaics. Whitmarsh uses a process of acid and wax to achieve the variegated patina on the Weathered Steel tiles. The tiles come in three sizes, 12, 16 and 24 inches square and can be installed on walls and floors. The Board Form gypsum cement wall tiles are hand cast from Douglas Fir that has been salvaged from old buildings. The tiles are available in the rectangular dimensions of the original wood planks. The raw concrete color has the option to be ordered with a hand waxed finish, which highlights the rough hewn texture.  "John Whitmarsh is an artist as fascinated with the study of materials as he is with the process of making things," says Deborah Osburn, founder and creative director of clé.  "A glimpse through John's tile collections displays a series of materials that elevate urban surfaces to an art form. Often overlooked or even ignored, in John's hands, these surfaces – created from shipping containers, textures of utility poles, or pieces of steel suspended in the height of their best stage of patina – become tiles that offer an industrial dimension to architectural surfaces."
According to Whitmarsh, who began his career as a visual artist in photography and filmmaking, "Textures make surfaces more compelling and dimensional. Surfaces engage the viewer when they feel the need to touch it." He shifted into sculpture after graduating from  film school because he wanted to create tangible objects with his own hands. To do so, he began working in ceramics for its range of possibilities. Entirely self-taught, Whitmarsh now works in a variety of materials, the style he has developed placing emphasis on the texture of surfaces. His tiles are hand-crafted from reclaimed materials such as pallets, roadside guardrail posts, and discarded metals.