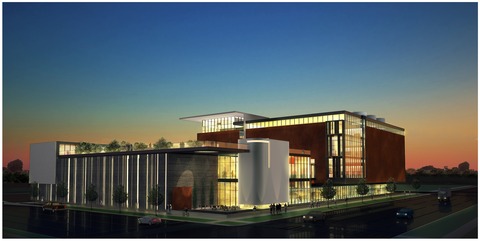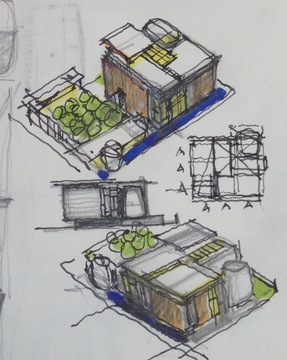 (Tampa, FL)……Alfonso Architects has been awarded the building project for the Museum of the American Arts and Crafts Movement, MAACM, to be built in St. Petersburg, FL, for collector Rudy Ciccarello and the Two Red Roses Foundation (TRRF). Alberto Alfonso, AIA, will be the lead architect on the 90,000-sq.-ft. museum, which is scheduled to open in early 2016. The four-story museum will include galleries to exhibit hundreds of objects from Ciccarello's fine and decorative arts collection, as well as additional space for special exhibitions, special events galleries, a small auditorium, a restaurant, cafe, gift shop, and bookstore. Books and catalogues on the Arts and Crafts Movement and the TRRF collection will be archived in a reference library furnished with original Stickley furniture, Tiffany lighting, and other period objects.
Award-winning architect Alberto Alfonso says of the new museum's architecture, "It is inspired by the Arts & Crafts Movement in its detailing and customization of materials and joinery. The building will serve the collection in its presentation of precious objects in a modern, functional, and didactic way. The spaces will embrace natural light and respond to the different scales of the objects they hold. It will be a building of our time that celebrates this immensely important period of art, architecture, and American history. As a large portion of the collection is permanent, this offers a tremendous opportunity to design contextual spaces that are individually tailored to support the diverse collections, which will include rare and often unique works by leading craftsmen and artists of the American Arts and Crafts Movement of the early 20th century. Art objects will include furniture, pottery, metalwork, lighting, tiles and architectural faience, woodblocks, fine arts, and a large collection of vintage pictorialist prints and photogravures. It is a tremendous gift for the city of St. Petersburg and our state that Mr. Ciccarello has chosen this area to house and showcase the pre-eminent collection of the American Arts and Crafts Movement."
Ciccarello's understanding and appreciation of this particular period in our nation's artistic history has informed his choice of the museum's name. He explains, "The word 'Movement' in the name of the museum refers to the historical art and design reform movement of the late 19th and early 20th centuries, rather than the contemporary practice of 'handicrafts.' The philosophy behind the Arts and Crafts movement was the belief that the Industrial Revolution had made man less creative, that his craft skills had been removed from the manufacturing process through the introduction of the machine. This reform movement sought to emphasize traditional craftsmanship, the qualities of materials used, and the simplicity of form, without superfluous or excessive ornamentation. The notion of good design was linked to the notion of a good society in which the worker was not brutalized by factory conditions, but rather could take pride in his craftsmanship and skill. Workers could produce beautiful objects that would enhance the lives of ordinary people while also providing a source of pleasure to both maker and user. I truly identify with the philosophy of the Arts and Crafts movement and immensely enjoy the beautiful objects created during this period."
Alfonso Architects,Inc. is a 35-person architectural design firm with current offices in Tampa, Philadelphia, and Milan, Italy. The firm was founded in 1988 by Cuban-born brothers Carlos and Alberto Alfonso and Angel del Monte. Alfonso Architects has won over 40 project-specific AIA Design awards. Representative design projects include the Nielsen Media Research Global Technology Center, a 650,000-sq.-ft. office and technology campus in Oldsmar, FL, and the Tampa International Airport Southwest Airlines Terminal, an 110,000-sq.-ft. airside. Both of these projects received the AIA Award of Honor. In January 2014, the Streamsong Resort in central Florida will open on the 16,000-acre property developed by Mosaic.
Philosophically, Alberto Alfonso's design process relies on the development of a project-specific architectural design idea that is grounded in site, program history, and region. An accomplished painter, Alfonso's process also utilizes painting, sketching, wood and steel models, and 3D computer technology to investigate design solutions. His work is heavily influenced by climate and the celebration of light referencing his Cuban heritage. There is a strong emphasis on materiality investigation to achieve an architectural expression that is both timeless and vigorous in detail.
####
[Press Release]