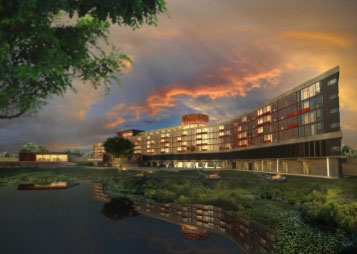 (Tampa, Florida)……..Alfonso Architects is designing the new Streamsong Resort and Conference Center in Polk County, Florida. The 16,000 acre property located between Orlando and Tampa, is formerly mined phosphate land owned and developed by The Mosaic Company, the world's leading producer and marketer of phosphate-based crop nutrients. Alberto Alfonso, AIA is the lead architect on the 300,000 square foot resort, with 216 rooms in the main lodge, 12 rooms in the golf clubhouse, a full service spa , three restaurants, and 18,500 sq. ft of conference center space. The resort will have two 18-hole golf courses by the renowned designers Bill Coore and Ben Crenshaw of Coore & Crenshaw and Tom Doak of Renaissance Design.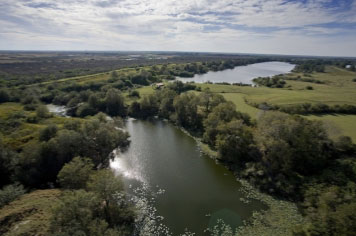 Alfonso, an established artist, will create paintings for each of the public and guest rooms to be displayed along with the poetry of his long time collaborator, Edward Mayes. "Streamsong is a celebration of reclamation, of both land and spirit. Since the mining has stopped, nature has taken over and provided us with the perfect inspiration," says Alfonso. "Giant dunes, lakes teeming with bass, and the wooded landscape are all reflected in the design. Guest rooms will have floor to ceiling glass with custom louvers and hardware to control light. The six story resort will be clad in Corton weatherizing steel and accented with native Florida cypress. A rooftop veranda will encourage stargazing at the brilliant cosmos above the rural landscape."
The golf clubhouse and two golf courses are scheduled to open December 2012. The complete resort is expected to be finished in fall 2013, bringing more than 200 permanent jobs to the area.
Alfonso Architects, Inc. is a 35 person architectural design firm with current offices in Tampa Florida, Philadelphia, Pennsylvania and Milan, Italy. The firm was founded in 1988 by Cuban born brothers Carlos and Alberto Alfonso and Angel del Monte. Alfonso Architects has won over 40 project-specific AIA Design Awards. Representative design projects include the Nielsen Media Research Global Technology Center, a 650,000 square foot office and technology campus in Oldsmar, Florida and the Tampa International Airport Southwest Airlines Terminal, a 110,000 square foot airside. Both of these projects received the AIA Award of Honor.
Philosophically, Alberto Alfonso's design process relies on the development of a project-specific architectural design idea that is grounded in site, program history and region. An accomplished painter, Alfonso's process also utilizes painting, sketching, wood and steel models, and 3D computer technology to investigate design solutions. His work is heavily influenced by climate and the celebration of light referencing his Cuban heritage. There is a strong emphasis on materiality investigation to achieve an architectural expression that is both timeless and vigorous in detail.
#####
[Press Release]