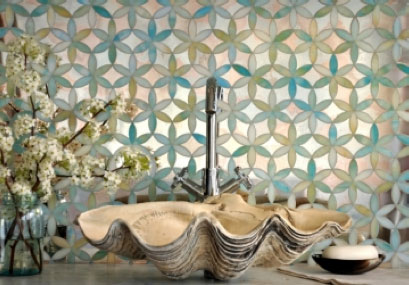 (Exmore, VA)……..The fresh, vibrant colors of spring are celebrated in new mosaics from Sara Baldwin, founder and creative director of New Ravenna Mosaics. Made entirely by hand in Virginia, the mosaics are inspired by the inlay technique which originated in the 17th century India. Baldwin interprets her fascination with the cultures of South Asia, replacing traditional bone and mother of pearl with brilliant jewel glass and natural stone. Fiona, Jacqueline Vine and Climbing Vine are delicate organic designs representing growth and renewal.
Baldwin says, "My travels have taken me around the world where I delight in discovering ancient methods and patterns. I bring these ideas home to Virginia and interpret them them using the materials of my craft, stone and glass. One of my greatest challenges is to take an extremely hard and durable surface and make it appear soft and flowing, which to me, is the essence of spring."
New Ravenna Mosaics in stone can be installed on floors and walls both indoors and out. The jewel glass mosaics are suitable for interior vertical installations. New Ravenna Mosaics creates custom and ready to ship tile for imaginative, sustainable, and durable surfaces. Over 200 remarkable designs are available at tile showrooms throughout the United States, Canada and Dubai.
www.newravenna.com (757) 442-3379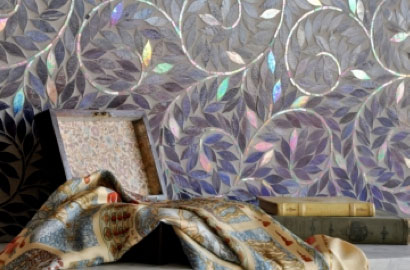 New Ravenna Mosaics is America's premier designer and manufacturer of stone and glass mosaic tiles for both residential and commercial installations. The company's products are handcrafted mosaics, made in Virginia, that are fashioned into decorative borders, murals, fields and medallions. Tile is cut and can be tumbled, honed, or treated to create distinctive styles, subtle shade variations, and textures. The end products are custom works of art in mosaic tile, which often incorporate the designs of architects, interior designers and their clients.
New Ravenna Mosaics are sold through exclusive designer showrooms across the country and internationally. The company provides design services along with on-site supervision of installations. New Ravenna Mosaics are found in homes, restaurants, hotels, casinos and businesses around the world.
#####
[Press Release]