"What's Cooking?" editors of Milieu magazine ask, then share their recipes for perfect kitchens and meals at home, including Cross cement tiles by Clé in the mix.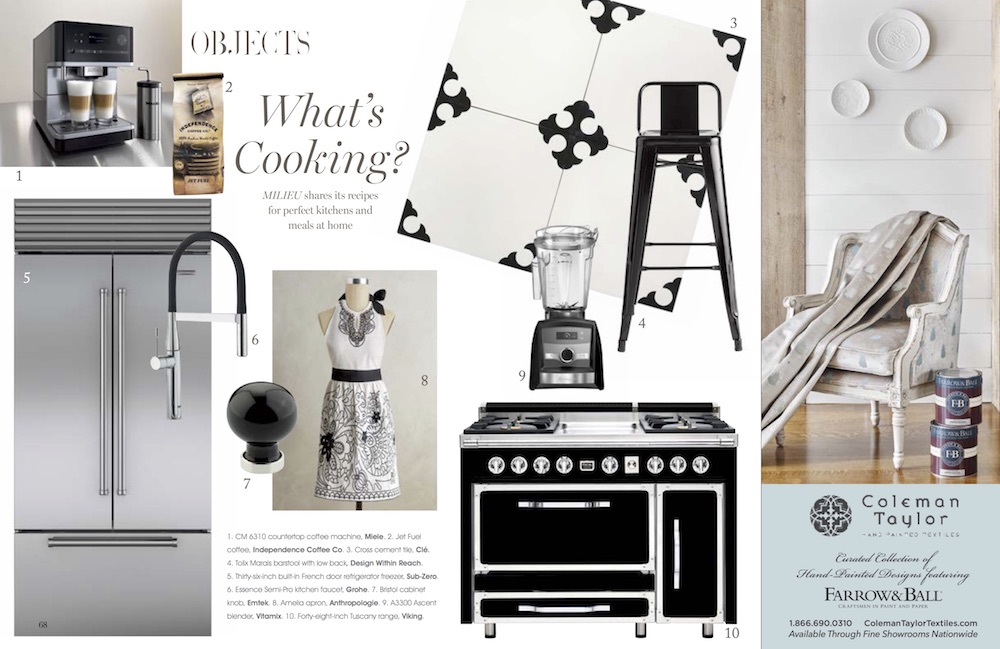 The Cross Pattern Was a Natural for this Spread in Milieu
These tiles hold a pattern of diminutive crosses repeating throughout a simple format. This clean and elegant approach produces an austere pattern with a gothic vibe. If you have a floor or wall that needs a simplistic touch with a strong visual, this is an irresistible design.
clé says of encaustic cement tile that it is their modern take on a historic tile that, over the past 150 years, has been referred to by dozens of names including encaustic cement tiles, cement tiles, concrete tiles, hydraulicos, cuban tiles, and so on. These alluring tiles have stood the test of time and have echoed their beauty across many continents. clé creates one of the finest cement tiles in the world, and this quality still permeates a surface which is muted, varied, matte and silky. cement tile patterns and shapes are already impossible to refuse, but it's the variegated colors that make them one of today's most sought after tiles for, both, walls and floors, as well as, indoors and out. Bella Figura Communications is the agency of record for clé, and the company's commitment to originality makes it unique. The company's founder notes, "We all come to our design selections based on our own design DNA. clé endeavors to fulfill your tile individuality with product that is capable of reflecting your very own style."
It's clear that clé is about pushing the boundaries of tile by being dedicated to an exploration of every aspect of tile—from the way the company's artisans imagine tiles, the company pursues artistic collaborations with artists and designers, and even in the way clé offers tiles to clients. "We have a profound love for tile and our endeavors are all about broadening everyone's concept of tiles so that they become less about a clinical and functional "backdrop" to our lives," Osburn says, "and more about an artful, provocative and interactive facet of our surroundings."