This article In Venice Culture Under Construction written by JoAnn Locktov focuses on both the Church of San Lorenzo in Venice and Mexico's 2012 Biennale exhibit and how this will restore the church back to its Renaissance splendor. It was originally published in Architects + Artisans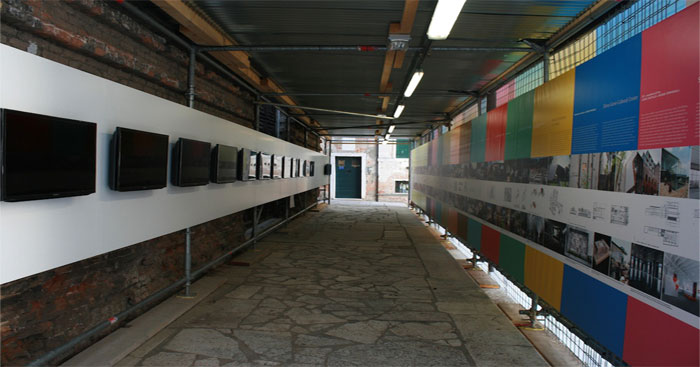 Here is a taste of the piece:
The former Church of San Lorenzo in Venice – it was deconsecrated more than a century ago – sits abandoned on the eastern edge of its namesake campo. Large fissures run through its brick walls like swollen arteries. The floor is a patchwork of broken tile and gaping holes open to the catacombs below. Mounds of dirt are piled unceremoniously on 9th century mosaics. Decorative ironwork lies stacked in a jumble, its gold patina blackened, too heavy to lift. In the choir, where hidden nuns once sang, is a box of unidentified human bones. The romantic in us would like to believe they are the bones of Marco Polo, but apparently those lie elsewhere. The air would be musty if the interior were not so cavernous. It produces its own frigid microclimate.
It is a troubled building.  The 9th century wooden structure was destroyed by fire in 1106, rebuilt, bombed and repaired. Its artworks were stolen, deconsecrated and abandoned. For most of the last century it was closed, its restoration proceeding in fits and starts, while its unfinished exterior seemed permanently clad in scaffolding. Enter Mexico, Biennale participant since 2003, with an unusual conviction. It made economic sense for the nation's continued Art and Architecture Biennale participation to invest in a permanent structure for their exhibits. The Commune of Venice offered them the former Church of San Lorenzo, the magnificent white elephant of Venice.
Undaunted by the magnitude of unfinished and perpetual restoration, the Biennale commissioner for Mexico, Gastón Ramírez Feltrín, was energized by the challenge.
Born in Tepic, Mexico, Feltrín is an artist who has lived for the last twelve years in Venice. Adept at brokering the varied interests and priorities of his native country with the Biennale bureaucracy and the Commune of Venice, he describes himself as being a cultural interface.  In that capacity he has enabled not only dialogue, but the restoration and preservation of an important and neglected structure in Venice.
To read more about this piece on Venice culture, click on the link at the beginning of this piece.