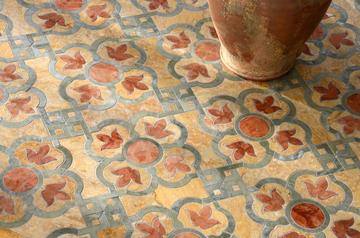 (Exmore, Virginia)……..New Ravenna Mosaics is proud to introduce the Miraflores Collection by Paul Schatz. The collection of eighteen mosaic designs was inspired by award winning interior designer Paul Schatz's travels throughout the Latin countries of Spain, Portugal and Mexico, combined with his passion for Morocco and studies of Islamic geometric art. The hand crafted mosaics are complex abstractions of classic motifs. Miraflores, which means "to watch flowers" in Spanish, has a storied legacy of palaces, monasteries and neighborhoods in Spain and South America. The mosaics are created in natural stone and can be installed as floors and walls, inside and out.
Sara Baldwin, founder and creative director of New Ravenna Mosaics, is delighted with her company's most recent collaboration. "Paul and I worked for many years together as he designed custom mosaics for each of his elegant architectural projects that we created for him here in Virginia. It was clear to me that he had a wealth of inspired ideas from his tremendous love and experience with Mediterranean and Spanish Colonial architecture and interiors, and so for him to create a complete collection was a natural evolution for us."
Paul Schatz started his firm Interior Design Imports in 1977. He works with both residential and commercial projects throughout the United States and Mexico. He lives in California and Mexico. New Ravenna Mosaics products are available at tile showrooms throughout the United States, Canada, Europe, and Dubai.
www.newravenna.com (757) 442-3379.
#####
[Press Release]
"Designers Pages" says of the collection: "Inspired by travels through Spain, Portugal and Mexico, the Miraflores Colleciton by Paul Schatz for New Ravenna Mosaics is now available in glass. Designer Schatz also studied Moroccan design and Chinese fret work to create this collection of striking geometric patterns. The new material brings brilliant colors and reflective textures to the original collection."